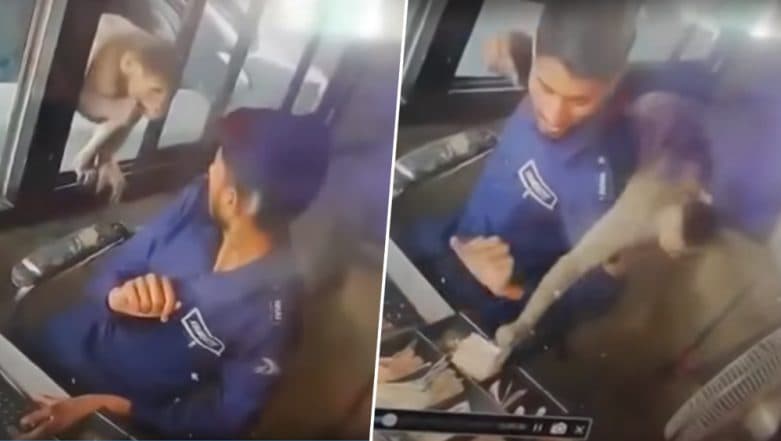 Robbery incidents on the highway, money flying on the road, chasing behind the cars are not too uncommon scenes that we have heard of. But a monkey barging in and stealing cash, that's definitely unexpected. Well, that's exactly what happened at a toll plaza in Kanpur last week. At the Bara toll plaza under Akbarpur Kotwali in Kanpur's Dehat area, a monkey entered through the small gap of the toll booth and took away cash worth Rs 5000! The entire scene was captured on CCTV and footage is since then going viral. In A Hilarious Video From Chinese Zoo Monkey Snatches Tourist's Wallet & Throws Away All the Money.
As a car stops at the toll booth, a monkey comes out of the window and enters the toll booth. The worker on duty is surprised by the visitor who sat on his shoulders but before he could react to it, the monkey snatched the bundle of notes from his hand and escaped. It looked like the monkey was trained well by someone to carry out the robbery. Uttar Pradesh: Elderly Man Stoned to Death by Monkeys, Family Wants FIR Against Animals. 
Watch Video of Monkey Stealing Cash From The Toll Booth in Kanpur:
The toll operator seemed amused at first but was shocked when he saw the monkey run away with the currency notes. As per reports, the toll officials tried to chase the monkey but couldn't. The car driver was also questioned but he denied any involvement in the case. Manoj Sharma, senior official at the toll management company said that this is not the first case but they have encountered a monkey stealing money in the past as well. So there are speculations that someone has trained these animals to steal money. The police are investigating into the matter. As if the robbery cases weren't enough, the Kanpur police department now has a monkey to chase after.