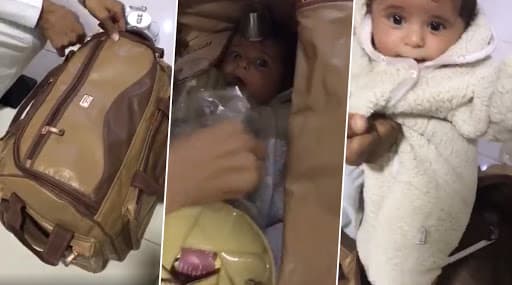 Often videos shared on social media gain publicity and sympathy of netizens. In the latest, a video is becoming viral in which a toddler is being found in a travelling bag in Dubai, making the social media users go berserk. However, on verifying the timing of the video, it was found that the video was at least 10 months old dating back to November 2018. MP Lawyer Dayaram Sahu is Addicted to Eating Glass Since 45 Years! Viral Cringe-Worthy Video Can Kill Your Appetite.
The video was shared again by HGS Dhaliwal, a 1997 batch Indian Police Service Officer. Following this, the video was shared numerous times and being reported by popular news agencies like Times Now, Mirror Now and the Tribune.
Here's the tweet by HGS Dhaliwal:
Baby Bagged!!

A 5 month old baby was kidnapped and carried to Dubai from Karachi inside a Travel Bag.

Fortunately, it was detected at Dubai Airport and the baby was found safe!! pic.twitter.com/qpBKhUu30I

— HGS Dhaliwal, IPS (@hgsdhaliwalips) September 15, 2019
According to the content of the video, the five-month-old baby was allegedly kidnapped and was being carried to Dubai from Karachi in Pakistan. The video of was first uploaded by a YouTube channel named PK News on November 3, 2018, with the caption "5 months old Pakistani baby been kidnapped & kidnapper put the baby in hand carry bag".
Here's the old video:
After the video was tweeted, Dhaliwal received several replies that the video was from 2012, in which an Egyptian couple was charged by the United Arab Emirates (UAE) after the hidden baby was found in their luggage bag. While the authenticity of the video with the old one is yet to be verified.