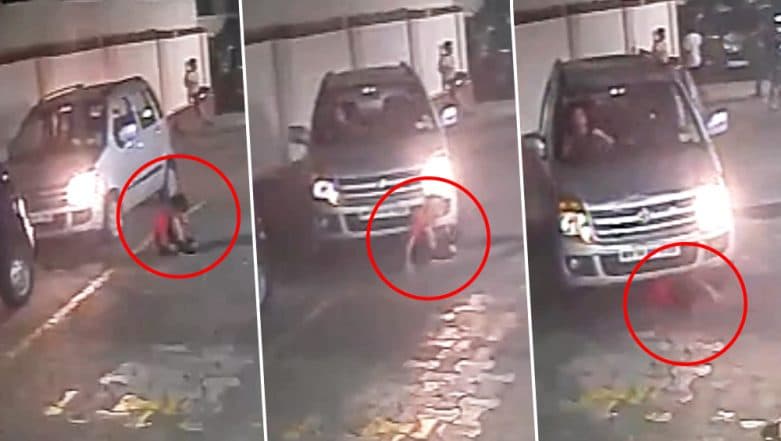 In a miraculous incident,  a  lady driver ran over a kid, but the latter escapes unhurt. The authenticity of the video and more information on the location is still to be found out. However, according to the CCTV footage, few kids can be seen playing, a lady driver runs over a child. Everyone around the child seems to be not startled or making any noise. After the car goes over the child, the latter gets up and goes to his friends, who then later came together to see if the child was hurt or not. Child Cheats Death in Bengaluru: Accident Video of Riderless-Bike Travelling 300 Metres With Kid Goes Viral.
Such miracles rarely happen, the driver should have been careful. Infact residential society should look into the matter that kid's playing area should be kept separate and not on the route where cars are parked. However, considering that most of the residences have a place crunch, this is hardly implemented.
Watch the video, where the kid made a miraculous escape. Viewer's discretion advised. 
A child had a similar miraculous escape, when a motorist and his wife were thrown off their bike, when they tried to overtake a scooter on Bengaluru's outskirts. Their vehicle remained upright as it slowed to a halt near a road divider. Their child was still sitting on it. The incident, which took place on Arishinkunte Road in Nelamangala, was filmed by a man who was travelling in a car just behind the couple. The child landed on the divider, and was unhurt.