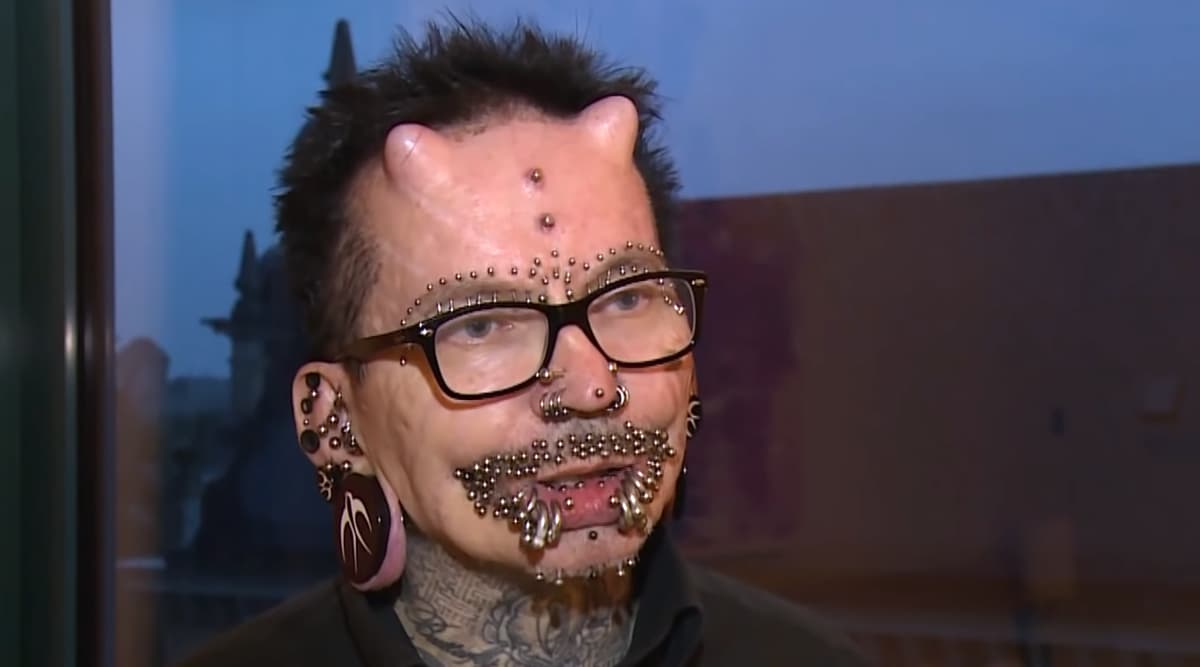 Rolf Buchholz from Germany is everywhere in the news now for displaying his 480 piercings and the horns implanted into his forehead. A whopping 278 of those are in his penis, and he says it does not hamper is sex life. Lovely! Buchholz first shot fame in 2014, when he was denied entry into the UAE because of his extreme facial jewellery and suspicion that he was involved in black magic. The now 60-year-old man appeared at the Brussels Tattoo Convention and has stunned the spectators by his appearance. Buchholz's pictures and videos have taken over the social media platforms leaving the netizens spellbound. Needless to say this, but he is the strangest man leaving on earth holding the Guinness record of "World's Most Pierced Man." Columbian Boy Cuts Off Half of His Nose, Tongue and Ears To Look Like a Skull! 
In 2014, Buchholz was visiting Dubai to perform at a nightclub. But he was stopped at the airport's checkpoint where passengers' hand luggage is scanned. Further confrontation revealed that it was because of his appearance that led the officials to think he might be engaged into black magic. He was forced to go back to his homeland. Girls' Nipple Piercings Are Revealed to Her Mother Through an X-Ray, Pic Goes Viral. 
Last weekend, the 60-year-old had appeared at the Brussels Tattoo Convention. He was quoted in reports saying, "It's not a problem at all. I have had the piercings already so long, if there was a problem, I would have got rid of them already long ago." There are 94 various metal rings and studs around his mouth. Strange enough? Even with so many piercings, he says he never had any trouble, aside from the Dubai incident. Besides, he has spent upto 1,500 euros to get those horns implanted to look like a Satan.
Watch Video of the Pierced Man, Rolf Buchholz:
The International Body Art is held every year between November 8 and 10, giving the attendees a chance to get tattooed by the world's finest tattoo artist. It also sees tattooed, pierced and bodily modified people showing off their adornments. Any tattoos completed at the event can be entered into the convention's award ceremonies which give prizes in many categories.