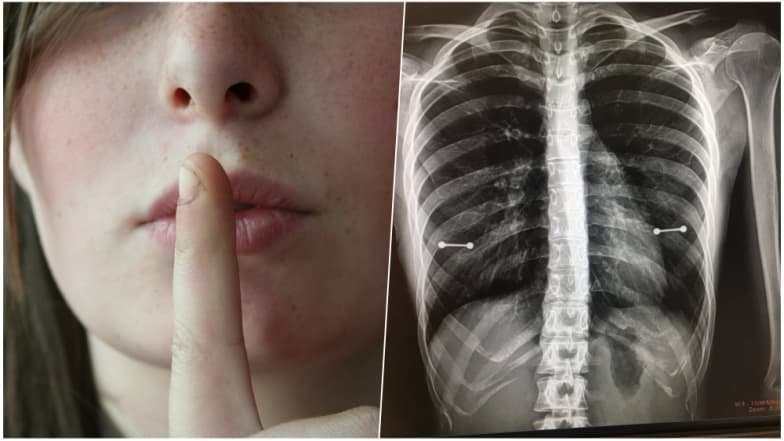 Hiding something from your parents is not an easy task. And if you are hiding something then you are always worried about what if they find out. But a 20-year-old's secret of nipple piercing was revealed to her mother in a rather unexpected way. A 20-year-old Sydney Allen got her nipples pierced as a birthday gift in the month of June but she carefully managed to hide it from her mother, until the two had to visit a doctor for a medical condition. The mother came to know about her daughter's nipple piercing through an X-ray. Finger Piercings: Latest Engagement Trend is Taking Over Traditional Rings.
Allen's mother is conservative about tattoos and piercings and would not have permitted her daughter to get her boobs pierced. But Allen was clueless that an X-ray would reveal her secret. She went for a routine checkup of her spine. The girl is suffering from a rare condition of syringomyelia. As a part of the procedure, the doctors had to take an X-ray. The X-ray clearly showed the metal visible in the results and the mother wasn't impressed. But at the moment when the doctor showed the X-ray, she and the doctor could not help but have a good laugh. Skull Boobs Are the Latest Halloween Trend: Forget Pumpkin Boobs and Bat Butt this Spooky Sexy Viral Make-up Trick is taking over Internet. 
Check Sydney Allen's X-Ray Picture Which Revealed Her Nipple Piercings 
My mom found out I got my nipples pierced today pic.twitter.com/BCRE1dz68f

— Syd (@Sydney_allenn) October 23, 2018
Allen was scared how her mother would react and her instant reaction was "We will discuss this later." Although the mother seemed initially upset she came around just fine sometime later. Allen decided to share her story on Twitter and it went viral as a lot of others could relate. People gave some funny reactions as well.
Check How People on Twitter Reacted to Sydney Allen's Story
Served as a warning for others
Now I know what to look forward to if I ever get an X-ray lol

— ᵇᵉᶜᵃᵘˢᵉ ᵗʰᵃⁿᵒˢ ⁱˢ ᵖᵒᵒʳ (@Ayoo_LynnBaby) October 25, 2018
Someone shared the exact same story
Girl, I feel ya pic.twitter.com/zOlfthrFHL

— ㅤgrim (@treefuzzz) October 24, 2018
Allen's picture has been retweeted 34,000 times and has more than a lakh likes. Thankfully for Allen, her mother warmed up to her later and she was also left laughing about the whole ordeal.