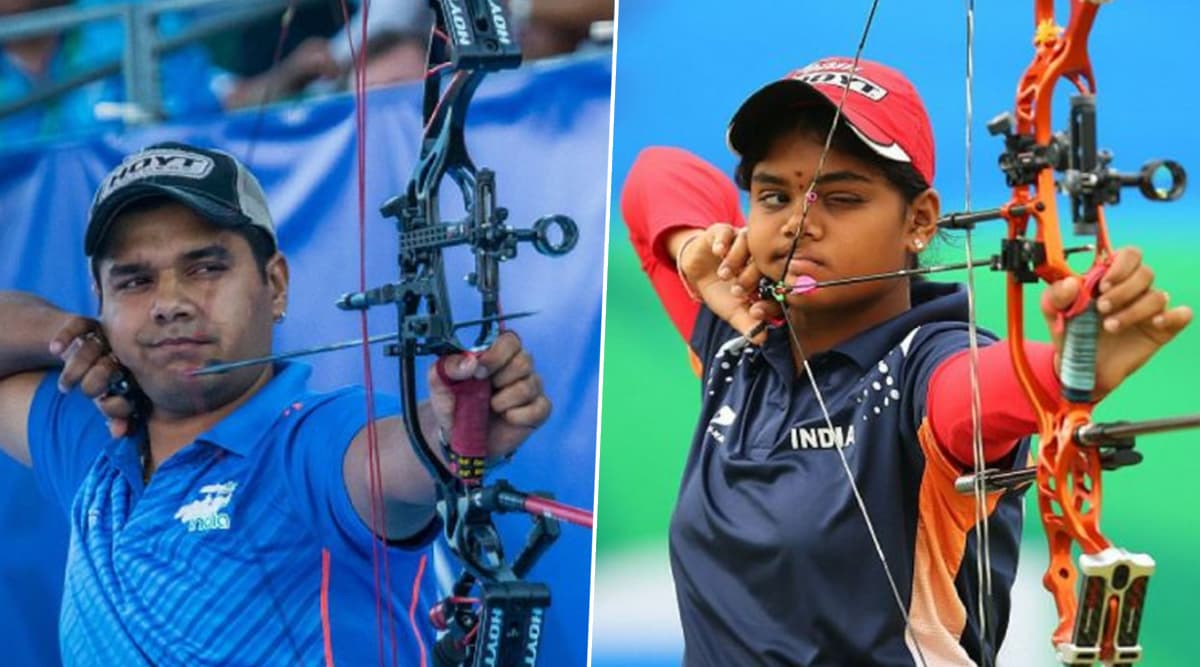 Indian archers Abhishek Verma and Jyoti Surekha Vennam won a gold medal in ongoing Asian Championships 2019. After the suspension of Archery Association of India from the tournament, Abhishek Verma and Jyoti Surekha Vennam competed under International Olympic Committee's (IOC) team. They managed to keep the IOC flag high in Compound Mixed Team event of Asian Championships 2019 tournament. They defeated Chinese Taipei pair  Yi-Hsuan Chen and Chieh-Luh Chen 158-151 in the final. Asian Championships 2019 is undergoing in Doha, Qatar. The video of Indian Archers' final event is doing the rounds on social media. Atanu Das Wins Second Bronze Medal at Asian Archery Championship 2019.
The Indian team earned a perfect 40 in the final round while Chinese Taipei team earned 39. Indian archers needed just five points in the final shot to win the gold. Jyothi Surekha Vennam got a perfect 10 in her last shot and bagged the gold medal for India. The official Twitter handle of World Archery shared the video on Twitter. Have a look at the video below. Asian Under-15 Wrestling Championships 2019: Indian Wrestlers Pick Up Six Gold Medals on Day 2 in Taiwan. 
 A perfect 10 for 5! 
Jyothi Surekha Vennam and Abhishek Verma beat Chinese Taipei in the Asian championship final! 🥇🌏🏹 #archery pic.twitter.com/rbnjQmSj78

— World Archery (@worldarchery) November 27, 2019
Gold for India!
Archery:

GOLD medal for Abhishek Verma & Jyoti Surekha Vennam in Compound Mixed team event of Asian Championships; beat Taipei pair 158-151 in Final.

Worth mentioning that Indian archers are competing under IOC flag due to suspension of Archery Association of India. pic.twitter.com/a0ah2smFkT

— India_AllSports (@India_AllSports) November 27, 2019
The mixed team of Abhishek and Jyothi won the only gold medal for India. Asian Archery Championships 2019 ended on Wednesday (November 27). In the 21st edition of Asian Archery Championships, India ended with seven medals in all. India clinched one gold, two silver and four bronze medals in total.
Earlier, Abhishek Verma lost the gold medal in team compound team by just one point. The Korean team defeated India 232-233 and won to bag gold medal. Abhishek Verma, Rajat Chauhan and Mohan Bhardwaj lost to Korean team of Jaewon Yang, Yonghee Choi and Eun-Kyu Choi and settled for silver. In compound women's team event, the Indian trio of Jyothi, Muskan Kirar and Priya Gurjar lost to Korea 215-231.