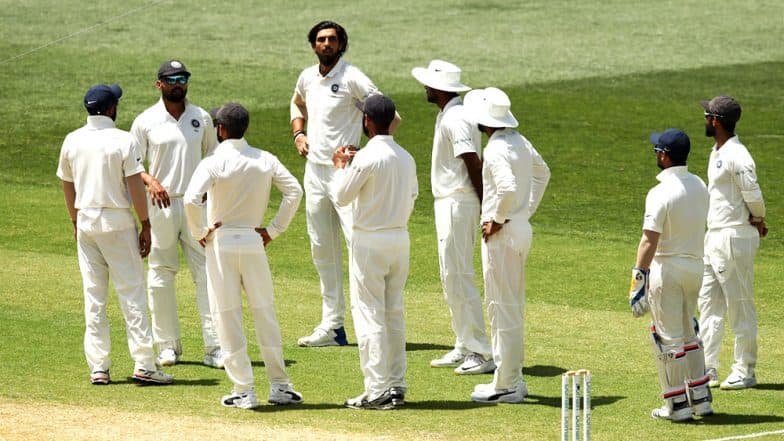 Aaron Finch would have been dismissed for a duck in the second innings, as well, when he was adjudged LBW by the umpire in the first over of the Australian second innings. It would have been an ominous moment for the Australian opener after an inswinging delivery rapped on his pads, and was declared 'out' by the umpire.
A 'pair' was nearly there for the taking! However, the right-handed batsman survived the call and resumed his innings. It was the Decision Review System (DRS) that, eventually, saved him. After the umpire raised his finger, Aaron Finch gave a long thought before signalling for the DRS! Virat Kohli Funny Dance Video: Indian Captain Caught in Act During India vs Australia 1st Test Match at the Adelaide Oval.
And as the lady luck was shining brightly on him, Aaron Finch survived. Well, the video referral showed that Ishant Sharma had overstepped while delivering the ball. It indeed was 'a game of millimetres', as rightly pointed out in this tweet.
View Pic: Ishant Sharma Overstepped While Bowling to Aaron Finch in 1st Test Match
A game of millimetres!

LIVE #AUSvIND: https://t.co/CcLBezJKBp pic.twitter.com/XXEraIeRHN

— Telegraph Sport (@telegraph_sport) December 9, 2018
The rulebook of Cricket says that a little portion (or any amount) of the bowler's foot while delivering the ball should be behind the bowling crease. And with how Ishant had delivered the ball, Aaron Finch survived the close call.
Watch Video: DRS Saves Aaron Finch after Declared OUT off Ishant Sharma's No Ball!
Aaron Finch was that close to a pair 😅 😅 😅

LIVE #AUSvIND: https://t.co/CcLBeA1lZZ pic.twitter.com/6T0oPdE5QG

— Telegraph Sport (@telegraph_sport) December 9, 2018
It was a huge reprieve for the flamboyant Aussie opener, who was on a 'pair', and how nearly he avoided it. A pair is a term in cricket which means that if a batsman is out on a duck (0) in both the innings, then he is said to be out on a pair. Jasprit Bumrah Fastest Ball: Pacer Clocks 153kmph During IND vs AUS 1st Test at the Adelaide Oval; Beats Mitchell Starc, Pat Cummins & Others!
Aaron Finch avoided it; however, he was dismissed on 11 runs by R Ashwin. Stay tuned with us for all the latest updates about India vs Australia Test Series 2018-19!