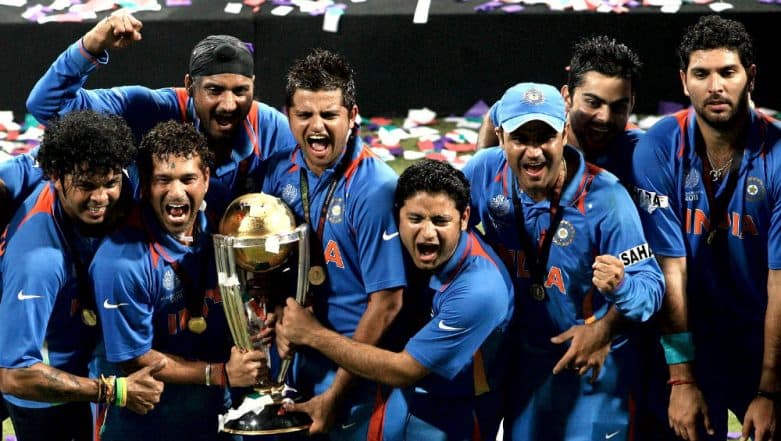 Mahendra Singh Dhoni on strike, Nuwan Kulasekara has the ball in hand. Four runs required off 11 balls. An ordinary ask, but the stage is extraordinary. It's the 2011 ICC Cricket World Cup final at Mumbai's Wankhede stadium. Kulasekara delivers the ball, Dhoni takes a calculated but wild swing of the bat. The ball goes sailing over the long-on for a six, Yuvraj Singh on the non-striker's end starts hopping in disbelief and India lifts the 2011 Cricket World Cup Trophy, ending the 28-year-old wait of a nation. Today, April 2, 2019, marks the 8th anniversary of the historic moment when India erupted with joy and were crowned the world champions. Virender Sehwag, Harbhajan Singh & Suresh Raina Relive the Moments of Winning 2011 World Cup.
Of course, it wasn't this simple. Just an hour back, India seemed to be struggling with Sachin Tendulkar, Virender Sehwag and Virat Kohli back in the pavillion. But thanks to a certain Gautam Gambhir and captain cool MS Dhoni, India chased down the total and the coveted trophy. If Gambhir and Dhoni had been the star of the match, Yuvraj Singh was rightly adjudged as the Man of the Series, for it was his overall performance that had got India so far. Gautam Gambhir 37th Birthday Special: Look Back At ICC T20 World Cup 2007, World Cup 2011 and Other Occasions Where Delhi Southpaw Helped India Script History!
The BCCI Tweeted on the Occasion. Relive The Moment Below:
That bat swing - That look during the final flourish 😍😍

Today in 2011, the 28-year old wait came to an end 😎😎 #ThisDayThatYear pic.twitter.com/XFEibKDrdk

— BCCI (@BCCI) April 2, 2019
There were tears and joy galore. Almost everyone was in tears. The players carried the legendary Sachin Tendulkar on their shoulders, and he was waving the Indian flag. A (very) young Virat Kohli, when asked about Sachin Tendulkar, said that "Sachin Tendulkar has carried Indian cricket on his shoulders for 21 years. So it was fitting that we carried him on our shoulders after this win."
That comment pretty much summed up the feeling that every Indian cricket fan wanted to articulate on that historic night of April 2, 2011. Virat Kohli has come a long way since and will be leading the Indian team in the 2019 ICC Cricket World Cup, which is only months away now. It's also expected to be MS Dhoni's final act at the World Cup. Will history repeat itself? Only the future can tell.
The 2011 victory is to the current generation, what the 1983 win at Lord's was to the previous one. And if 1983 announced India to the Cricket world, 2011 WC victory cemented India's position as the cricket powerhouse.