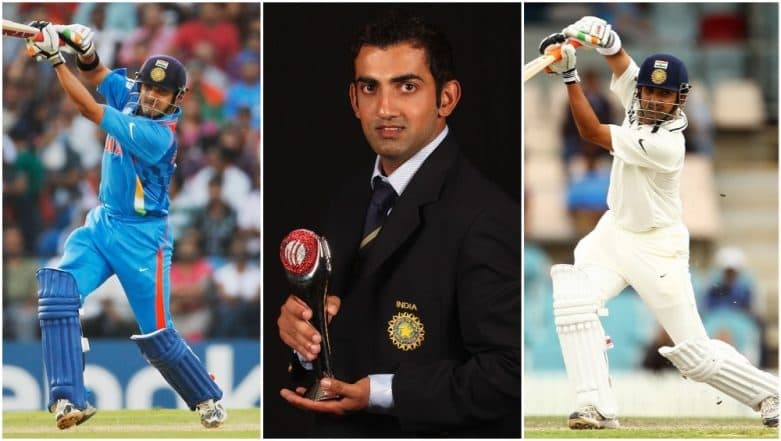 Gautam Gambhir will be celebrating his 37th birthday, this year, on October 14. The feisty left-hand batsman has been the unsung hero of Indian cricket. While Sachin Tendulkar, Virender Sehwag, MS Dhoni, and Yuvraj Singh were basking in their deserved glory, the Delhi south-paw was silently helping India script history and emerge victorious in major tournaments across the globe. Gautam Gambhir Celebrates 37th Birthday: 4 Times Twitterati Were in Awe of the World Cup-winning Indian Cricketer.
Not known to mince words while speaking his mind, Gautam Gambhir has always adopted an aggressive-yet-calm approach during his playing days. It may sound a bit abrupt, but then that is how he has been on the field. A two-time IPL champion, Gambhir has also been instrumental in the turnaround of his former IPL franchise – Kolkata Knight Riders.
Underrated at most of the times, Gautam Gambhir has helped India bag two of its most loved trophies – ICC 2007 T20 World Cup and ICC 2011 World Cup. As he celebrates his 37th birthday, this Sunday, we bring you the achievements when Gambhir's heroics rescued India.
1. ICC T20 World Cup 2007
When every other batsman failed to score runs, Gautam Gambhir stepped up in the ICC T20 World Cup final match in 2007 against Pakistan. He scored almost 50 percent of the Indian innings and was dismissed for 75 as India scored 157/5 in the showdown. India went on to win the inaugural T20 WC edition, and Gambhir emerged as the tournament's highest run-getter.
2. Test Match vs New Zealand in Napier, 2009
The knock at Napier against New Zealand was Gautam Gambhir's coming-of-age innings. The left-handed batsman played a little over 400 balls and stayed on the crease for over 650 minutes to help India salvage a draw. New Zealand scored 619 runs in the first innings, and the Indian team folded for 305 in their first innings. Following on, the Indian team managed to draw the Test riding high on Gambhir's knock of 137 runs off 436 balls.
3. Test Match vs Sri Lanka in Ahmedabad, 2009
In the first Test match of Sri Lanka's tour to India in Ahmedabad, Sri Lanka scored over 700 runs in their first innings, and took a lead of over 300 runs. In their reply, it was Gambhir's brilliance and resilience in the second innings that saw India secure a draw in the match. Gambhir scored 114 runs off 230 balls, and stayed on the crease for over 350 minutes.
4. ICC World Cup 2011
When your premier opener is out on the second ball of the innings while chasing, and that too in the high-voltage World Cup final match, being nervy and shaky while coming out to bat is quite apparent. However, Gautam Gambhir showed no signs of nervousness or sorts.
Instead, his calm, composure and impeccable timing of the ball helped India reach closer to its World Cup dream. Gambhir formed essential partnerships with Sachin Tendulkar (of 31 runs), with Virat Kohli (of 83 runs), and then with MS Dhoni (of 109 runs), that helped India lift the World Cup trophy after 28 years!
There are a lot of occasions on which Gautam Gambhir has helped India win matches single-handedly. His aggressive nature has seen him get involved in a lot of banter on the field – who doesn't remember Shahid Afridi, Kamran Akmal, and Shane Watson?
Gautam Gambhir had been a workhorse for the Indian cricket for a long time during his playing day. As India's unsung hero celebrates his 37th birthday today, we at LatestLY, wish Gautam Gambhir all the happiness!