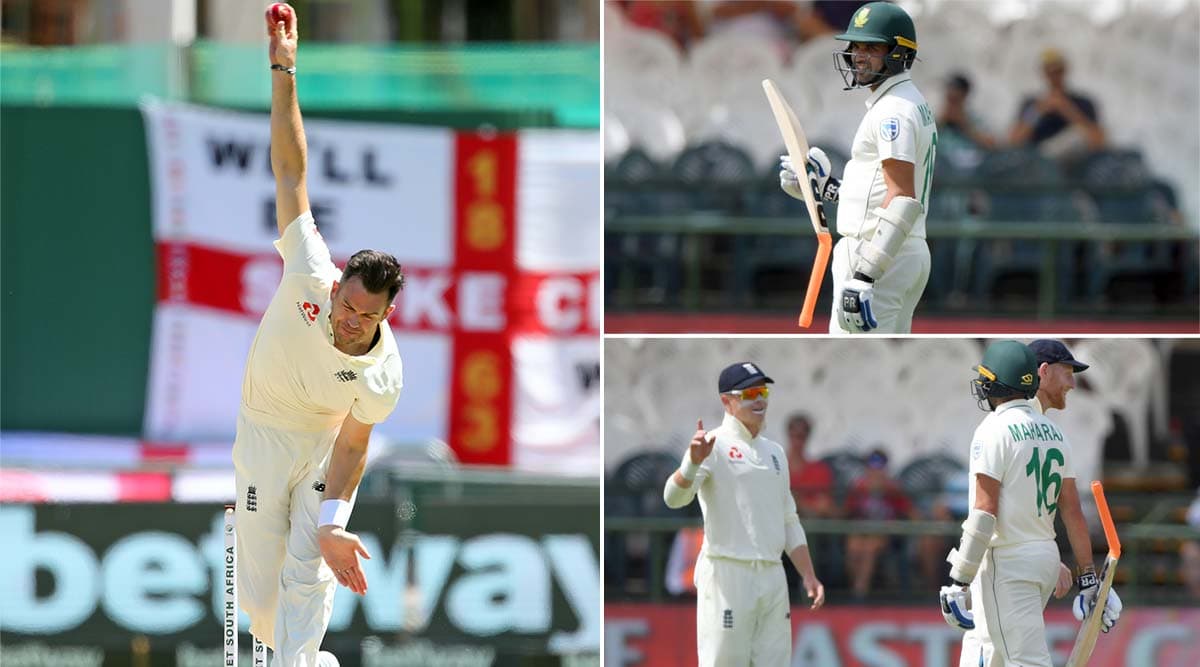 James Anderson needed 11 deliveries to catch South Africa's night-watchman Keshav Maharaj plumb in front of the wicket and send him packing just 3 overs into Day 5 of the South Africa vs England 2nd Test match. But James Anderson needed only five deliveries to break Maharaj's bat into two pieces leaving the young South African spinner to call on the dressing room for a spare bat. Maharaj, who had come in as the night-watchman following the dismissal of Zubayr Hamza late on Day 4, lasted just 17 deliveries before becoming Anderson's 2nd victim of the innings. Twitter immediately reacted to Anderson gate-crashing Maharaj's bat with ICC leading the reactions to the incident. South Africa vs England, Live Cricket Score 2nd Test Match.
The incident occurred in the 1st over of Day 5 of South Africa vs England 2nd Test on January 07, 2019 (Tuesday). Anderson had opened the bowling on the final day for the 2nd Test match with England searching for a quick wicket to dismantle South Africa's chase and level the four-match Test series. Maharaj defended the fourth delivery of the over – his first of Day 5. The next ball by Anderson was right on stumps but carried up off the seam before hitting the upper half of Maharaj's bat and Breaking it into two pieces. Twitter immediately got rolling with the ICC even reminding tail-enders what it is to face Anderson. SA vs ENG, 2nd Test 2020: Pieter Malan's Fifty Keeps South Africa in the Hunt Against England.
When You Face James Anderson!!
When you face James Anderson 🏏 👀 #SAvENG pic.twitter.com/Gi0MKyD3tD

— ICC (@ICC) January 7, 2020
Into Two
JAMES ANDERSON HAS BROKEN KESHAV MAHARAJ'S BAT! A complete fold at the splice.#SAvENG🏏🇿🇦🏴󠁧󠁢󠁥󠁮󠁧󠁿

— Guerilla Cricket (@guerillacricket) January 7, 2020
That 1 Time is More Fun
I'll happily watch Keshav Maharaj's bat breaking 100 times 😂😂😂 #SAvENG

— Davis Harrigan 🦁 (@DeadlineDavis) January 7, 2020
He Broke It, He Goes Out
We didn't manage to get this out there before he was dismissed, but Anderson hit the splice of nightwatchman Keshav Maharaj's bat, and, well he broke it!

Live: https://t.co/DCQcP1fxLp#SAvENG #bbcccricket pic.twitter.com/nPgIEVzFyc

— Test Match Special (@bbctms) January 7, 2020
Meanwhile, England are on track for a series-levelling victory at Cape Town with South Africa losing 3 wickets and needing more than 300 runs to win. Test debutant Peter Malan had led the home team's chase with a fighting half-century but the others around him have failed to score anything substantial. Malan and skipper Faf du Plessis are currently at the crease for the home team.