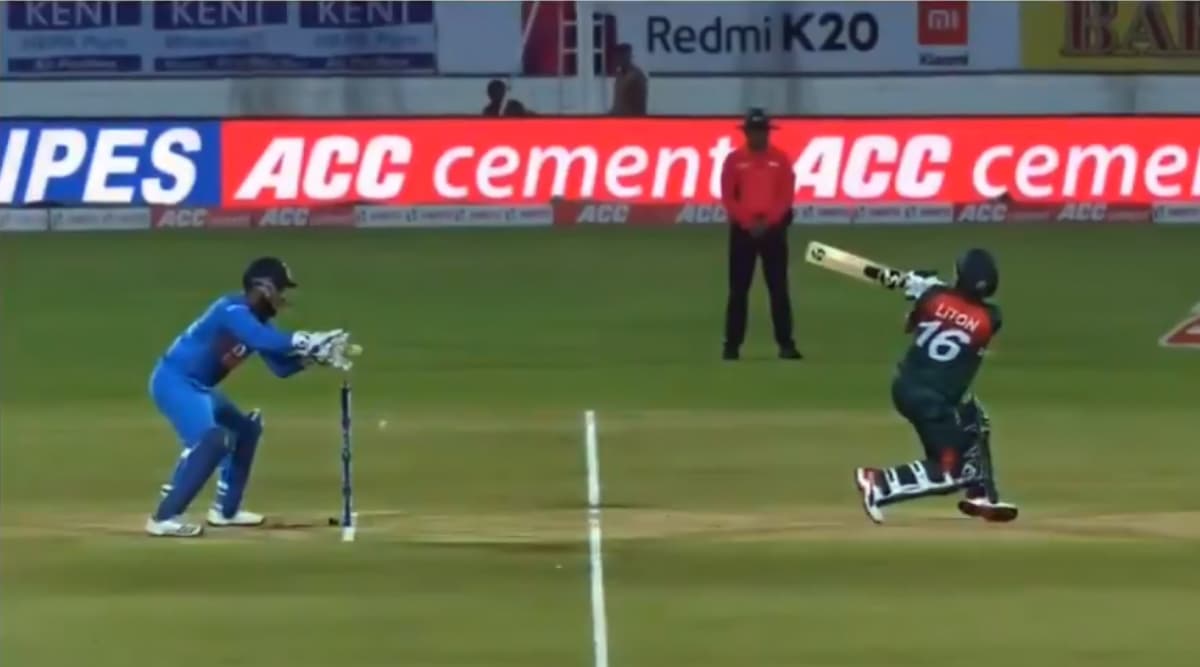 Rishabh Pant just can't get things right at the moment. The young wicket-keeper, who backed by the team management and selectors, has been continuously trolled by netizens for being picked ahead of Sanju Samson despite his disastrous from both with the bat and behind the stumps. And it wasn't any different at Rajkot after Pant forgot one of the most basic rules of wicket-keeping – to catch the ball behind the stumps. Pant in his excitement may have missed the rule and caught the ball before it had crossed the stumps. Not only was Das given not out but it was also signalled a "No Ball" and a free-hit was awarded to Bangladesh, with Das hitting a boundary of the free-hit. India Vs Bangladesh, Live Cricket Score 2nd T20I Match.
Pant, 21, stumped Liton Das in the sixth over after Yuzvendra Chahal bamboozled the Bangladeshi opener with a leg break and left Das stranded outside his own crease. It was an easy opportunity and Pant obliged with the easiest of all stumpings but replays showed he had caught the ball ahead of the stumps and Das was given not-out by the third umpire. The MCC Law – Cricket's rule book – clearly states, "The WK shall remain wholly behind the wicket at the striker's end from the moment the ball comes into play until a ball delivered by the bowler touches the bat or person of the striker or passes the wicket at the striker's end or striker attempts a run."
Pant's Off Day Behind Wickets
#RishabhPant messes up !! 🤦🏻‍♂️🤦🏻‍♂️🤦🏻‍♂️ pic.twitter.com/3rEVqnNG7Z

— Nishant Barai (@barainishant) November 7, 2019
Rishabh Pant Makes Glaring Stumping Mistake
Not out because The legendary rishabh pant caught the ball in front of the stumps#INDvBAN pic.twitter.com/MYa6WYqFbx

— Doctor By Chance (@iamthemaulik) November 7, 2019
The left-handed wicket-keeper batsmen was as a reason heavily trolled on social media with many picking him on for the glaring mistake in an international cricket match. This, however, hasn't happened for the first time in cricket nor was it the first instance where an Indian wicket-keeper was involved. Robin Uthappa suffered a similar embarrassment with Kolkata Knight Riders during the 2014 Indian Premier League (IPL) final against Kings XI Punjab.
MS Dhoni Be Like
MS Dhoni after watching Rishabh Pant's wicket keeping#IndvsBan pic.twitter.com/zCZsNdcGEk

— Right Arm Over (@RightArmOver_) November 7, 2019
Kohli the keeper is Better Than Rishabh Pant
Still better than #RishabhPant pic.twitter.com/NXVMzEtV8t

— Anubhav Dixit (@anubhav_boss) November 4, 2019
Indian Fans Visiting Rishabh Pant
Indian Cricket Fans are Going to #RishabhPant House#IndvsBan pic.twitter.com/jq5q7vrrm9

— mudabbir husain مدبر حسین (@mudabbirhusain_) November 3, 2019
Dhoni Fans to Pant
Mahi fans to Rishabh Pant right now: pic.twitter.com/cDgxOelnum

— Sarcastic Ladki (@badassyy) November 7, 2019
Piche sei Pakdo
Me : to rishabh pant

oye bsdk piche se pakar le #RishabhPant#IndvsBan pic.twitter.com/mkIshrxrPZ

— 🗡🗡SAURABH KR🔫🔫 (@Saurabhkr969) November 7, 2019
Dhoni vs Rishabh Pant
MS Dhoni's Wicket Keeping VS Rishabh Pant's wicket keeping#IndvsBan #INDvBAN pic.twitter.com/uLoEsb33ct

— Prashant (@prashant_7_) November 7, 2019
Dhoni Sir Kindly Teach Pant
#dhoni sir kindly teach #rishabhpant basic wicket keeping. pic.twitter.com/73VPP004gr

— Aniket Thakur (@Aniket_Thakur) November 7, 2019
Rishabh Pant's Day?
Rishabh Pant be like #INDvBAN#RishabhPant pic.twitter.com/JvdDAGUfWO

— Sumit Rathod (@crazy_rathod_) November 7, 2019
Rishabh Pant Behind the Stumps
Rishabh Pant behind the stumps#IndvsBan pic.twitter.com/SznyFQ8Olg

— Sarcastik🅰️ri (@sarcastikari_) November 7, 2019
Differences
Wicketkeeping

1.Exception

2.Reallity#IndvsBan #Dhoni #RishabhPant pic.twitter.com/dVsSehb0QP

— Arjun Potarkar (@arjunpotarkar) November 7, 2019
Wicket-keepers Before Dhoni
MS Dhoni made his international debut in 2004

Wicketkeepers before 2004😂😂😂#IndvsBan

#Pant #RishabhPant pic.twitter.com/FAsvOBT93w

— Adarsh singh🇮🇳 (@AdarshRo45) November 7, 2019
Pant Behind Stumps
Whenever #rishabhpant behind the stump#INDvBAN pic.twitter.com/bzSFmbQJCY

— adarsh kumar (@adarshk06684881) November 7, 2019
Rishabh Pant Fans Now
Fans of Rishabh pant right now

😂😂😉#INDvBAN #RishabhPant pic.twitter.com/vm9PIUyAGX

— RAVÍ (@RaviPilaniya) November 4, 2019
BCCI Looking for Dhoni
BCCI trying to find Dhoni's gloves pic.twitter.com/UvKjGZkham

— Rakesh 🇮🇳 (@ImRakesh777) November 4, 2019
Pant in IPL vs Pant for India
*Rishabh Pant*

In IPL In International

Cricket pic.twitter.com/nNSQgh6ZvS

— Unemployed Marwadi 🇮🇳 (@Muaaaahrwadi) November 3, 2019
Pant later went on to redeem himself with the run-out of Das, whose stumping he had missed earlier. Incidentally, the bowler again was Chahal and it was in his very next over following the stumping incident. Das, who looked during his 21-ball stay at the crease, had to go back after stitching a fine 60-run partnership with opening partner Mohammad Naim.