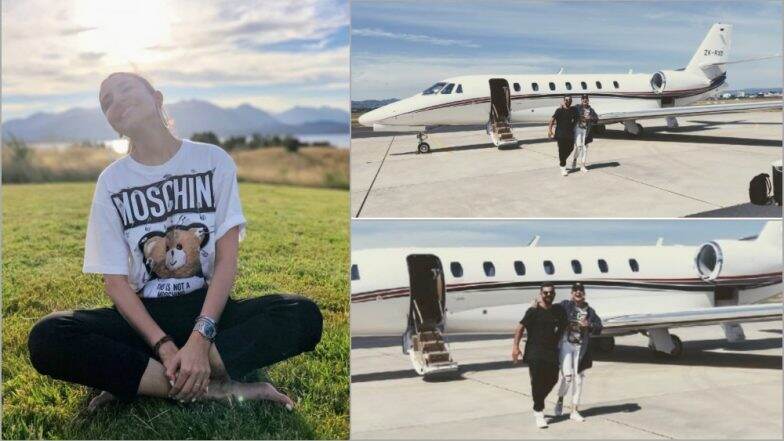 "Away we go ❤️😃," writes Virat Kohli before flying off to an undisclosed holiday destination with wifey, Anushka Sharma. The couple claims to find joy in the simplest of things, but the power couple's latest pic tells a different story. Posing in front of a private plane and ready to fly off for another romantic holiday is proof of their lavish lifestyle. Anushka Sharma and Virat Kohli Are Seen Spending Time With a Kid in this Unseen Pic.
Virat has been rested for the last two ODI matches and Twenty20 series against New Zealand. Indian batsman Rohit Sharma will be leading the side in the absence of regular skipper. Meanwhile, Virat plans to make most of the break and spend quality time with Anushka. The actress has been accompanying her hubby on his cricket tours to Australia and New Zealand but would now be happy to have all his attention. Virat Kohli Is at His Goofiest Best With Anushka Sharma While Celebrating India's Win Down Under.
The Indian captain shared a picture of the couple departing from the Kiwi land in a private plane. This photo is definitely giving major travel as well as leisure goals. As for Virat and Anushka's dressing style, the duo stuck to their favourite – comfortable yet chic style.
Virat Kohli and Anushka Sharma Posing in Front of Private Plane
View this post on Instagram
A few hours later, Anushka also shared another photo from their exotic holiday. She writes, "You're only always one breath away from Bliss ... ☺️💏💜." She captioned this with an image that shows her basking in the sun. The Zero actress looks very cute in a white Moschino t-shirt, which BTW will cost you a bomb. It is sold on clothing brand's official website under "COTTON JERSEY T-SHIRT WITH SAFETY PIN TEDDY PRINT" for a discounted price of Rs 20,496. It was originally priced at Rs 40,986! She wore it with a pair of black crop pants.
View this post on Instagram
Anushka also shared a lovey-dovey picture of themselves on her Instagram story. Fans will be looking forward to seeing more from the couple's exciting romantic holiday. For now, see few images shared by the couple during their stay in New Zealand.
View this post on Instagram
Another Cute Pic of Anushka Sharma
View this post on Instagram
Earlier, Virushka was in the news after Kohli revealed a few sweet things about his married life in a video posted on the BCCI website. He said, "Me and my wife like to do normal things like going around for walks. Last night, we were at the Marine Parade [in Napier] with the full moon. We were just enjoying that sitting on the bench talking." He added, "It's actually the most simplest thing that give us joy, purely because we are always in the public eye. So it's important to get away and not known by anyone and that's something both of us really like." Enjoy your time off away from the prying eyes of the public.