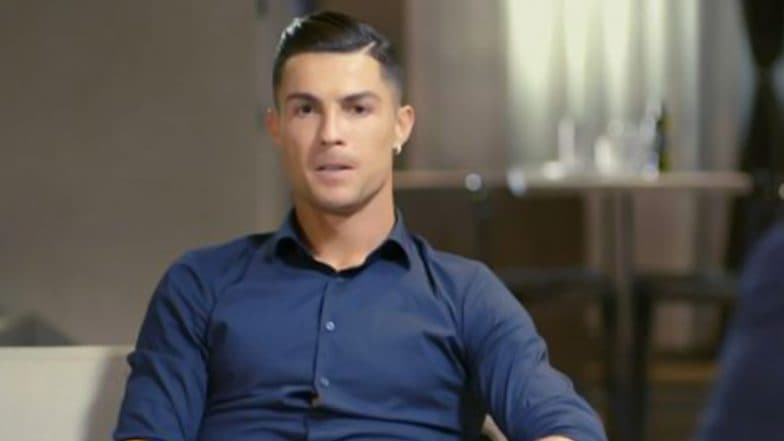 Cristiano Ronaldo wants to track down a mysterious McDonald's worker named "Edna," who helped him with burgers during the Portuguese star's struggling days in his native Madeira. The Juventus forward, in an interview with popular British TV celebrity Piers Morgan, revealed how as a kid at Sporting Lisbon he used to beg for burgers and was helped by "Edna" and two other girls. The 34-year-old forward expressed his wish to track those girls and give something back for their help during his struggling days. The interview with Morgan – which aired on ITV – was the most revealing interview of Ronaldo in his illustrious career, with the football superstar opening up on a number of things from his childhood days in Portugal. Cristiano Ronaldo Breaks Down in Tears After Watching Footage of His Late Father Jose Aveiro During Emotional Interview (Watch Video).
"We were a little hungry. We had a McDonald's next to the stadium, we knocked on the door and asked have you got any burgers," said Ronaldo, during a segment in the interview. "There was always Edna and two other girls." The McDonald store in which Edna apparently worked has now been shut down but Ronaldo, who last season moved from Real Madrid to Juventus last season, wants to track them down and invite the girls for a dinner with him. Juventus Celebrates Cristiano Ronaldo's First Goal for the Club With a Video.
Cristiano Ronaldo Appears in An Interview
Probably one of the most revealing interviews I ever did...! Thanks @piersmorgan for the interview.👍🏽 pic.twitter.com/4fWfU3ifxj

— Cristiano Ronaldo (@Cristiano) September 17, 2019
"I never found them again. I asked people in Portugal, they closed the McDonalds, but if this interview can help find them, I would be so happy. I want to invite them to Turin or Lisbon to come to have dinner with me because I want to give something back," the five-time Ballon d'Or winner added.
Piers Morgan Updates on Finding Edna
UPDATE: We may have found Edna... https://t.co/7VC5Tj9lv6

— Piers Morgan (@piersmorgan) September 18, 2019
Meanwhile, interviewer Piers Morgan, less than 24 hours after the interview was aired on television gave an update on Ronaldo's find Edna mission. "UPDATE: We may have found Edna..." said the British journalist although there has been no further update about the McDonald women.
Ronaldo played an important part – even though he didn't score – as Juventus held Atletico Madrid to a 2-2 draw in their opening Group D 2019/20 Champions League encounter. Ronaldo, who scored 28 times in debut season in Italy, is running for a sixth Ballon d'Or award.