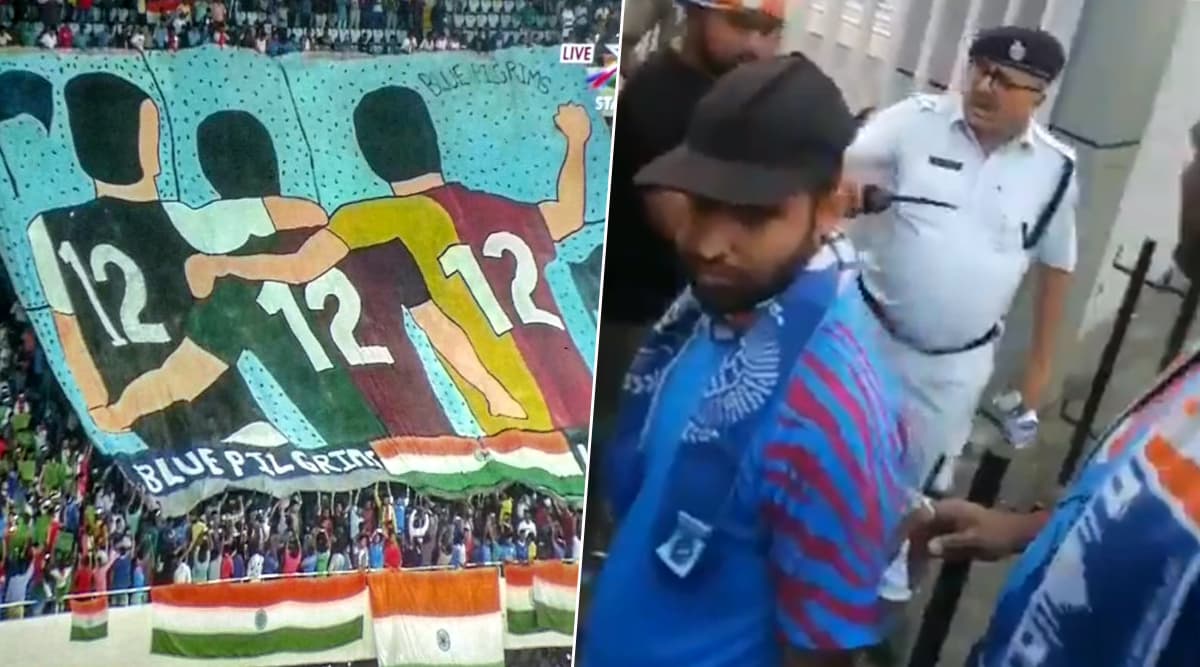 Indian football fans once again faced the wrath from stadium authorities, who denied them from the entering the Vivekananda Yuba Bharati Krirangan – where India was facing Bangladesh in a crucial Group E 2022 FIFA World Cup Qualifier match – with banners for supporting and cheering the home team. City cops from Kolkata – where the India vs Bangladesh game was played – denied the fans from entering the ground with banners, resulting in a confrontation between both parties. India played out an insipid 1-1 draw against Bangladesh that somewhat killed their chances of not only progressing to the second round of the 2020 World Cup Qualifiers but also qualifying for the Asian Cup. Indian Fans Disappointed After India vs Bangladesh Football Match Ends in a Draw 1–1, Post Tweets to Complain About Blue Tigers' Poor Show.
In a video shared on social media, a section of fans from the Blue Pilgrims – Indian football team's official fan group – were denied from entering the stadium with banners that could've helped them in voicing their support and cheering their beloved team. The video shows few state police officials stopping a group of fans, who had banners with them, and barring them from entering the Salt Lake stadium.
Things soon turned into a brawl when the officials repeatedly inhibited the fans' attempt. The fans could be seen questioning the officials on why they couldn't enter the ground with banners but were only met with "not allowed" answers from the officials.
Kolkata Cops Bar Blue Pilgrims From Entering Stadium With Banners
Yo Cops, relax you guys. They're just banners🙄

We've worked for a whole week to make these banners for @IndianFootball. @KirenRijiju it's not just about us or about today. Happens everywhere in India. THIS NEEDS TO STOP! #FreeIndianFootballFans#MeccaCholoBondhu #INDBAN pic.twitter.com/AKNiXYj82t

— Blue Pilgrims (@BluePilgrims) October 15, 2019
This isn't, however, the first time such a thing has occurred in Indian football. There were repeated instances of such incidents taking place in last year's Indian Super League (ISL) season and also during earlier international matches of the Indian national team.
Meanwhile, despite being obstructed from carrying banners inside the Salt Lake Stadium, fans managed to take one TIFO at the match in which the Blue Pilgrims paid tributes to Kolkata's three big cubs – Mohammedan Sporting, Mohun Bagan and East Bengal.
Fans Pay Tribute To Kolkata's "Big Three"
Even though we weren't able to carry all the banners we painted inside the stadium ( no thanks to cops ), one of the things we somehow managed to take it in was this. 🇮🇳🙏💓 #INDBAN #MeccaCholoBondhu pic.twitter.com/GwgKSdUgJv

— Blue Pilgrims (@BluePilgrims) October 15, 2019
Thank You Kolkata
THANK YOU, KOLKATA 🙏🏽💙#INDBAN ⚔️ #WCQ 🏆 #IndianFootball ⚽️ #BackTheBlue 💙 #BlueTigers 🐯 pic.twitter.com/FsEdalnjr5

— Indian Football Team (@IndianFootball) October 15, 2019
Meanwhile, it was a full house at the Salt Lake stadium were India faced Bangladesh but the fans weren't exactly paid back with the kind of football they were expecting from the Blue Tigers, especially after the brave goalless draw against Qatar away from home.
India, instead were lucky to escape with a draw after Saad Uddin had nearly won the game for his side with a 42nd-minute strike. Adil Khan equalised for the home team, two minutes from the final whistle. The draw kept India fourth in Group E standings with only two points from three matches, Bangladesh from the same has one point.