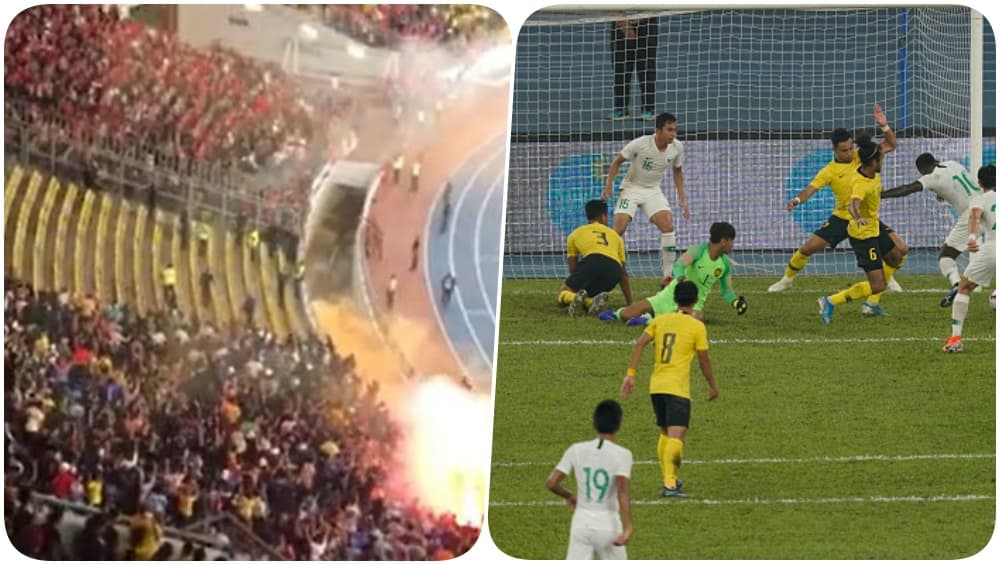 The game of football is quite an exciting one not only for the players but also the fans. There were many too many instances when the games have been stalled due to a ruckus created by the fans in the stadium. This time the match between Malaysia vs Indonesia was no different. The two sides met at the Bukit Jalil Stadium in Malaysia for the second round of the FIFA 2022 World Cup Qualifiers. This is where the fans couldn't set limits and went overboard as they were spotted throwing flares. The police were quite swift and jumped into action in time. FIFA World Cup 2022 Qualifiers: What Next for India As World Cup Qualification Hopes Are Virtually Over After 0-1 Defeat to Oman?
The authorities later confirmed that the fans from both sides were detained for not having proper documentation. The police further confirmed that they had arrested 41 people for the act. The match was won by the home team by 2-0 but the incident was quite an unfortunate one. The video of the fans throwing flares went viral on social media. Check them out below:
#kualalumpur Seramai 27 penyokong Malaysia dan 14 penyokong Indonesia ditahan selepas tamat perlawanan kelayakan Piala Dunia 2022/Piala Asia 2023 di Stadium Nasional, Bukit Jalil, malam tadi. https://t.co/9RavT9JQH5

— Harian Metro (@hmetromy) November 20, 2019
Video of the incident
"Police detained 41 individuals including 27 Malaysian and 14 Indonesian supporters after the match for documentation purposes," Cheras district police Chief Assistant Commissioner Mohamed Mokhsein Mohamed Zon said in a statement. The statement further added that all the fans were released after the documentation was made. With this, Malaysia now stands on number two of the points table with nine points. Whereas, Indonesia stands at the bottom of the table with no points in their kitty of Group G.