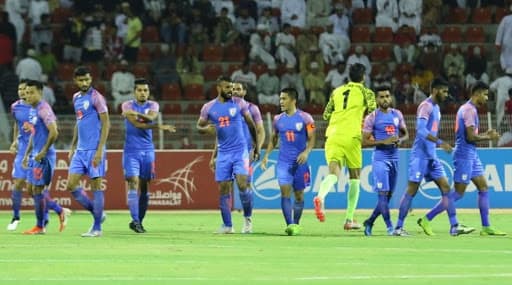 India's dismal run in the World Cup qualification campaign continues as they slip to another defeat by the hands of Oman. After this 1-0 defeat, the chances of qualifying for the 2022 Qatar World Cup are virtually over for the Blue Tigers. But hope still remains for qualification in the 2023 AFC Asian Cup which is to be held in China. India are still winless in the qualification campaign and with just three points on the board, they are in the fourth position in a five-team group. The remaining three games will be crucial for India and we look at what needs to be done if they want to qualify for the Asian Cup. India vs Oman, 2022 FIFA World Cup Qualifiers Result: Muhsen Al Ghassani's Sole Goal Leads Oman to 1–0 Victory Against India.
There are eight groups and just 12 places on offer for the next round of World Cup qualifications. This means all group winners and four best-placed runner ups will book their place in the next 2022 World Cup qualification round. Qatar being the host, will make it possible for a fifth runner-up to move into the next round. These 12 teams will automatically book their place in the 2023 AFC Asian Cup. The remaining teams will still have a shot at the Asian Cup, but only the third-placed team gets direct entry in the qualifiers. The fifth-placed teams and the four lowest fourth-placed sides will have to battle it out in playoffs before entering in the automatic Asian Cup Qualification. India vs Oman, 2022 FIFA World Cup Qualifiers Result: Sunil Chettri and Boys Lose to Oman 1-0 in a Hard-Fought Match.
India have three points from five games so far and are fourth in their group. Qatar are first with 13 points followed by Oman with 12 points and Afghanistan with 4 points. Qatar are out of India's reach, the Blur Tigers can still mathematically go above Oman, but only if they manage to win all of their remaining matches and Oman loses theirs. While qualifying for World Cup needs a miracle a more realistic scenario is India battling it out with Afghanistan for the third spot which will then guarantee a straight shot at Asian Cup qualification.
World Cup qualification restarts on March 26, 2020 and India will host Oman at that time. Then they will travel to Bangladesh before ending their World Cup qualification against Afghanistan at home in June 2020. The Blue Tigers have a good chance of finishing third if they manage to get two positive results as Bangladesh and Afghanistan have a match against each other. However, if India fail to win any of those matches, even a single win for Afghanistan or Bangladesh will mean that their best possible finish would be fourth, and it will not be good enough to make it to the Asian Cup qualifications without a playoff. India need to start picking up wins if they hope to make successive appearances in the AFC Asian Cup finals.