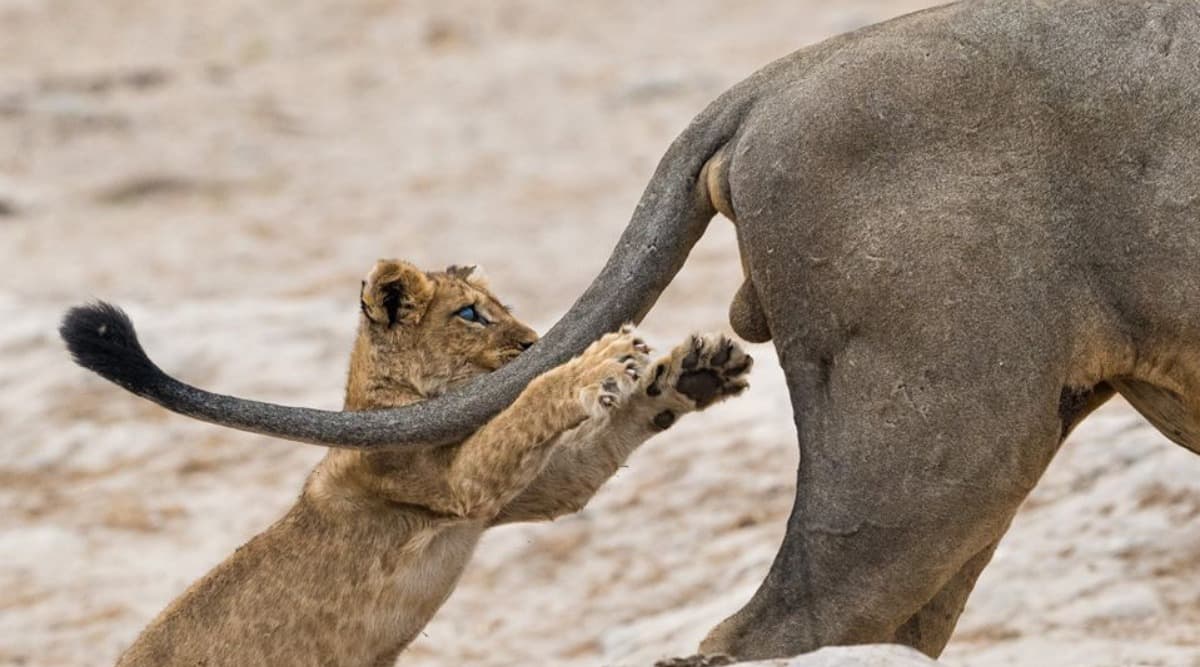 Comedy Wildlife Photography Awards 2019 has been released and we promise it you are in for a great laugh. A photographer of lion cub reaching for a male lion's crown jewels clicked by Sarah Skinner has won Comedy Wildlife Photography Awards 2019. While that one was clicked in the African nation of Botswana, the judges of the awards had a tough time as there were 4000 entries from 68 countries. The pictures take you through the light side of the animal universe which we don't get to see every day. Wildlife Photographer of the Year 2018: Photo of a Heartwarming Moment Between Two Lions Captured in Africa Wins Award.
Sarah who titled the photo as 'Grab life by the ...' in a press release says, "It certainly warms my heart to know that this image will spread some laughter and happiness around the world." The idea behind the Comedy Wildlife Photography Awards is to provide humour while promoting conservation and the need to preserve the planet. National Geographic Travel Photo Contest 2019 Winner: Breathtaking Photo of Winter in Greenland by Photographer Weimen Chu Wins The Grand Prize.
Here's The Comedy Wildlife Photography Awards 2019 Winner!
Talking about the lion cub, Sarah added, "I am happy to report that this cub continues to thrive in the pride, having seen her again in October this year. I can only hope and encourage everyone, as a collective to each do our part in the conservation of all wildlife species, so that future generations can enjoy them, in the same way, that I have done during my career as a wildlife photographer. Long may lions walk the plains." 2018 Wildlife Photographer of the Year: 10-Year-Old Arshdeep Singh From Punjab Wins Award for 'Pipe Owls' Picture.
Here Are Some Among The Other Entries to the Competition
Trust Me, No One is Watching!
If Sunday Morning Had a Face!
When His Humour is On Point!
Monday Mornings Personified!
When Bae Simply Doesn't Get It!
How I Wish My Life Looked Like This!
Heart in The Mouth Moment!
The photos show the animals experiencing varying emotions including sorrow, anger, joy, sorrow and even humour. They have their moments of laughter, mischief, amusement and everything in between. Founded by Paul Joynson-Hicks and Tom Sullam, both professional photographers, the annual photography competition is a global competition where anyone can send their entries online for free.