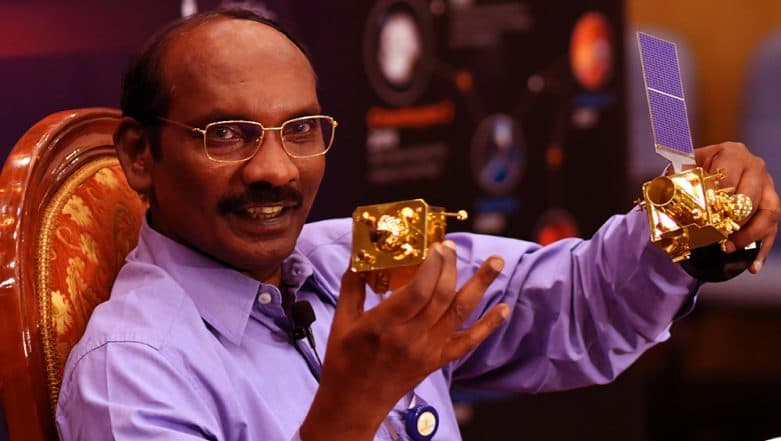 Moments after scientists of the Indian Space Research Organisation (ISRO) lost communication with Moon lander Vikram, Chairman K Sivan could not hold his tears and broke down while Prime Minister Narendra Modi was leaving the ISRO headquarters in Bengaluru. The nation woke up to a heart-warming video where the Prime Minister was seen consoling the ISRO Chief with a warm hug. Sivan's emotions are a reminder of how passionate and humble the ISRO Chief is! Chandrayaan 2 Heartbreak: PM Modi, Nation Backs Indian Scientists; Here's List of ISRO's Most Notable Achievements.
Meet K Sivan, the Humble Son of a Farmer Who Now Heads ISRO
Kailasavadivoo Sivan, often referred to as K Sivan, was born in 1957 to a farmer's family in Tamil Nadu farmer. Sivan, who hails from Mela Sarakkalvilai village in Kanyakumari district of Tamil Nadu, now leads India's most ambitious and complex space missions at ISRO. The 62-year-old ISRO Chief  is the first graduate from his family and is widely known for his significant contribution to the development of cryogenic engines, for India's space programme.
Sivan did his schooling from a local Tamil medium school in Mela Sarakkalvilai Village and later in Vallankumaranvilai in Kanyakumari district. Sivan later graduated with a bachelor's degree in engineering from Madras Institute of Technology in 1980. In 1982, Sivan got a master's degree in aerospace engineering from Indian Institute of Science, Bangalore and started working in ISRO.
Before joining ISRO, Sivan was the director of the Vikram Sarabhai Space Centre (VSSC) in Thiruvananthapuram. Sivan joined ISRO in 1982 to participate on the Polar Satellite Launch Vehicle (PSLV) Project. He was appointed as the director of ISRO's Liquid Propulsion Systems Centre on 2 July 2014.
On 1 June 2015, he became the Director of VSSC. Sivan was appointed the chief of ISRO in January 2018 and he assumed office on 15 January.Under his chairmanship, ISRO launched Chandrayaan 2, the second mission to the moon on July 22, 2019.
Among his most talked works is Sivan's association with making the Mars Orbiter Mission satellite fly atop the slender PSLV C-40 rocket. Sivan is also hailed for the development of the Polar Satellite Launch Vehicle (PSLV) that launched 104 satellites in a single mission, setting a world record in February last year. He has been a recipient of several awards like Tamil Nadu government's Dr. A.P.J. Abdul Kalam Award in 2019, Dr Biren Roy Space Science award in 2011 among several others.