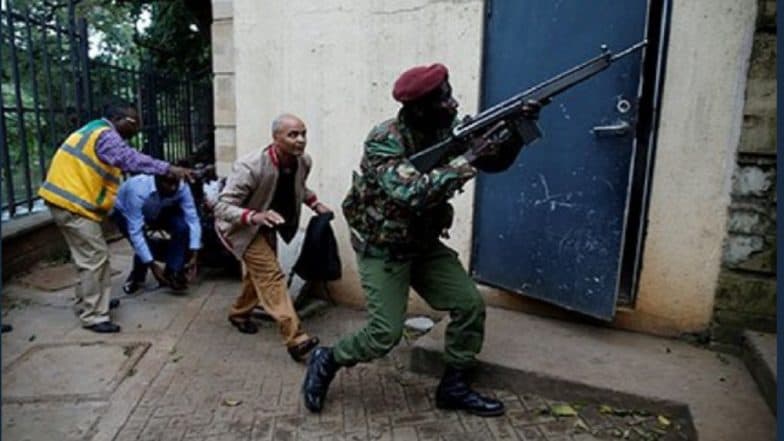 Somalia-based militant group al-Shabab attacked a luxury hotel complex in Nairobi killing at least six people and injuring many more. The attack happened in the Westlands district of the Kenyan capital, which houses the DusitD2 hotel as well as other offices. The militant group has claimed a much higher casualty number, saying they have killed as many as 47 people in their attack. At least another 30 people have been taken to various hospitals to be treated for injuries.
Kenyan police chief Joseph Boinnet said on Tuesday that the attack began with gunmen throwing bombs at cars before entering the hotel lobby, where one blew himself up. "We can now confirm that this criminal activity commenced at about 3pm local time in a coordinated fashion," Boinnet said in a televised statement, adding that it "began at I&M Bank with an explosion that targeted three vehicles in the parking lot".
Hours after the attack, Kenya's Interior Minister Fred Matiang'i said all parts of the hotel complex affected by the attack had been secured adding that security forces were in the final stages of cleaning up the scene. However, this claim too was contradicted by the Al-Shabab group who said they were still in control of parts of the hotel complex.
The attack came a day after a Kenyan court began hearing a case against militants involved in the 2013 Westgate Mall terror attack in which 76 people had been killed. The attack too had been carried out by Al-Shabab militants.
The Al-Shabab group is based in Somalia in East Africa and its main focus has been opposing the internationally supported Somali government. Kenya is part of the African peacekeeping operation that supports the Somali government and has hence come into the cross hairs of the Al-Shabab militant group and over the years faced horrific attacks.