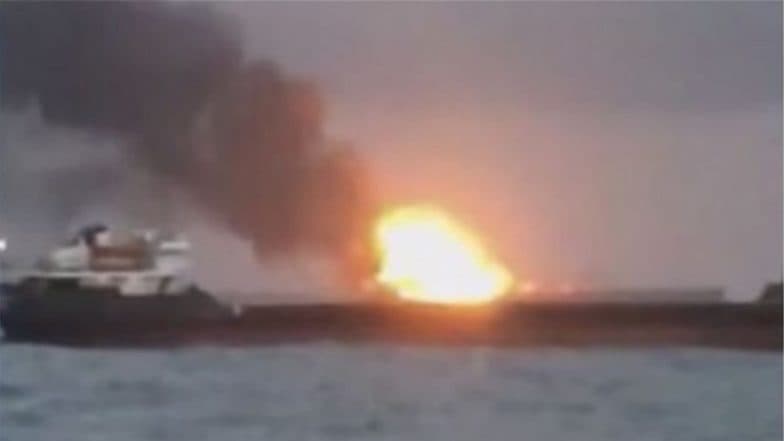 At least 11 sailors have been killed after a massive explosion followed by a fire occurred on two cargo ships sailing off the coast of Crimea in the international waters of the Black Sea. The crew of the two ships included sailors from India but their numbers and their status are not yet known.
Russia's Transport Ministry said that the two ships were in the process of refueling when an explosion occurred on one ship. The ensuing flames spilled out on to the other ship. The vessels have been identified as flying under the Tanzanian flag and are named the Candy and the Maestro.
The blaze is especially massive as one of the vessels was a liquefied gas tanker. Russia's Transport ministry said that many sailors jumped into the sea following the fire onboard the vessels and its emergency services are in the process of rescuing them. However, some sailors remain missing.
AFP news agency said that "no signal from either one of the two captains" had been received suggesting the explosion and the fire were too rapid in occurrence to call for help.
The vessels were located near the Kerch strait, the narrow water way which connects the Black Sea to the Sea of Azov. The crew members were sailing in "neutral waters" in the Black Sea when the incident occurred, authorities said.
This entire region has been the focus of Russia-Ukraine tensions after Moscow annexed Crimea in 2014. Sailing through the Kerch Strait into the Sea of Azov is the only way to reach two of Ukraine's biggest ports, Mariupol and Berdyansk. Ships are often made to wait weeks before they can pass through the Kerch Strait. Ukraine has said that Russian authorities use their control of the Kerch Strait to harass vessels headed for its ports.