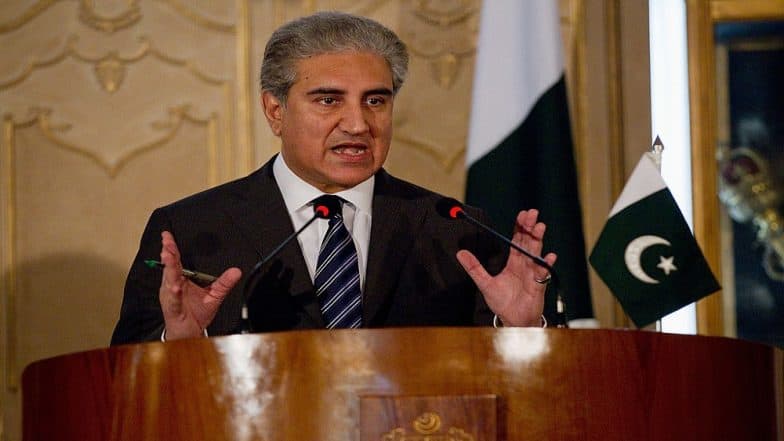 Srinagar, August 17: Upping the ante against India on diplomatic front, Pakistan on Saturday announced the formation of a special  "Kashmir desk" in its embassies across the world. The nation has further decided to constitute a "Kashmir cell" in its Minister of Foreign Affairs. The designated cell would constantly focus on the country's policy pertaining to the conflict-ridden region.
The announcements were made by Pakistan's Foreign Affairs MInister Shah Mehmood Qureshi, who addressed the press along with the Director General of Inter-State Public Relations (ISRP), Major General Asif Ghafoor. J&K: 2G Mobile Internet Services Restored in Five Districts, Telephone Lines Resume in Valley
"A special cell on Kashmir would be constituted at the Pakistan Foreign Office, which would be responsible for devising a future course of action on the prevailing situation in occupied Kashmir," he said, referring to India's integral region of Jammu & Kashmir as a territory under occupation.
"A Kashmir desk would also be established in all Pakistani embassies around the world," Qureshi further announced. Critics of the move said the decision would further strengthen the Inter-State Intelligence (ISI) - Pakistan's spy wing's grip on the Kashmir policy.
Qureshi also alleged before the press in Islamabad that India could be planning "false flag" terror attacks in the new future to build up war-hysteria against Pakistan.
The reiteration of this charge comes days after Pakistan Prime Minister Imran Khan claimed that India could be looking for an ignition to launch a military operation. "If a war erupts from here, I would like to tell the world that the onus will be upon India," he said on August 14.