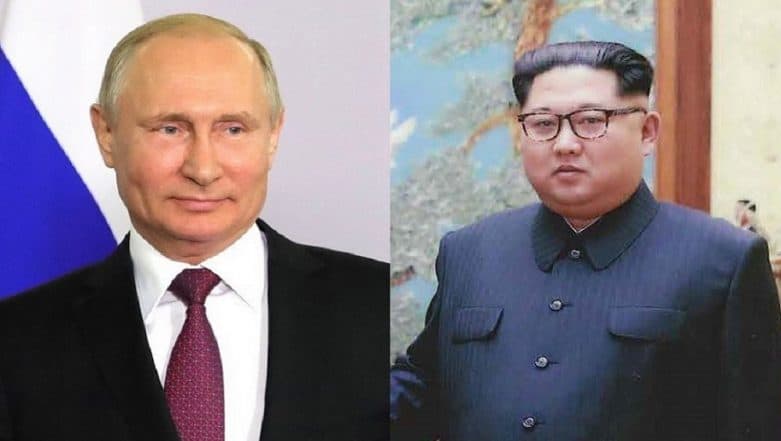 Mumbai, April 24: North Korean state media has confirmed that the country's leader Kim Jong-un is on his way to Russia for his first ever meeting with Russian president Vladimir Putin. The meeting is scheduled for April 25.
The meeting was confirmed by Russian presidential and foreign-policy aide Yuri Ushakov on Tuesday. "The focus will be on a political and diplomatic solution to the nuclear problem on the Korean Peninsula," he said, adding that the two leaders would meet in Russia's Far East. The announcement of the meeting came after North Korean state media had announced last week that Kim would visit Russia "in the second half of April."
Yuri Ushakov said the situation on the Korean peninsula had "stabilised somewhat" in recent months. "Russia intends to help in any way possible to cement that positive trend," he told reporters on Tuesday. Russia has previously been involved in de-nuclearisation talks with North Korea but not during the Trump Administration's outreach to Kim Jong-un. Moscow was part of the six-party talks in the 2000s after Pyongyang withdrew from the Nuclear Non-Proliferation Treaty.
According to reports, the Putin-Kim summit will be held in Vladivostok. Specifically, the Russky Island, where Russian and North Korean flags could be seen flying on lamp posts on Tuesday.
Kim Jong-un's outreach to Putin comes as Pyongyang's talks with the Trump Administration have more or less come to a stand-still after the failure of the Hanoi summit. Pyongyang also recently blamed the failure of the Hanoi summit on US Secretary of State Mike Pompeo, and demanded that he be be removed from the nuclear talks, accusing him of "talking nonsense" and asking for someone "more careful" to replace him.
North Korea also recently tested a tactical-guided missile, which experts say could be a short-range missile, another sign that it was back to its belligerent signalling towards the U.S.