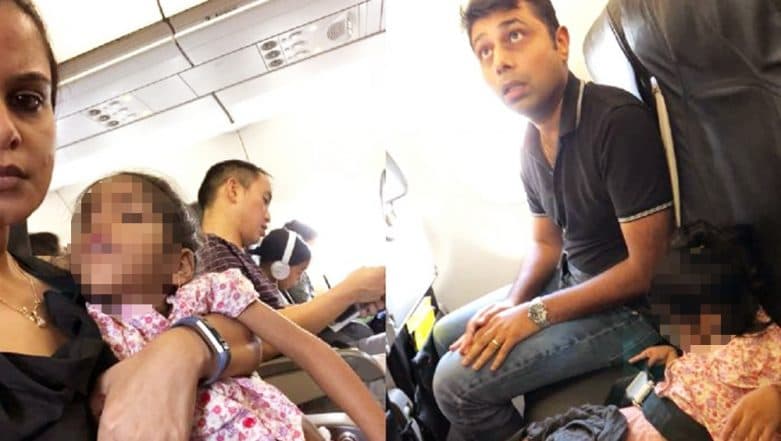 Singapore, June 14: Low cost airline Scoot has come under fire after it allegedly refused to fly a five-year-old child with special needs. The incident happened on the Singapore-Phuket flight that was scheduled for 7:45 am on Wednesday. Divya George, the child's mother, posted on Facebook this morning saying, "Our flight that was to take off at 7:35 am has been delayed by an hour so far because they refuse to fly with my special needs child. They want to deplane us because they refuse to take her."
She said that the captain of the flight refused to allow the child to fly with an infant seat belt. "While she's 5 years old she weighs 8.5 kgs and is the size of a 1 year old. The Capt sited safety reasons for his inability to let us fly while holding her on our lap with an infant seat belt," Divya wrote on her facebook page.
While many came in support of Divya on the disheartening incident, many were seen trolling her, following which she explained the entire incident.
This is what she wrote
"Today I'm distraught to say the least. Let me start by staying My daughter has taken 67 FLIGHTS to be precise in her 5 years. (For those assuming it was our first flight and we don't buy her a separate ticket, and we're cheapskate Indians etc) We've always flown with her. While we've usually faced small problems on any airline with regard to her having an infant seatbelt because she HAS HER OWN SEAT (they somehow refuse even though she's less than 9kgs) the airline always come though for us. The Capt comes out, takes a look at her, sees inspite of the fact that she has a full ticket - she can't sit, permits use of the infant seatbelt and all is fine. But today wasn't like that. What was meant to be an amazing start to a holiday turned out to be a nightmare. As always we requested the ground staff for a baby belt and they agreed that word would be sent to the Capt.
We boarded, the flight attendant saw she's specially aided and mentioned he'd try and issue a baby belt to start with but then it quickly changed saying that the Capt has denied permission to fly with her like that. It turned out to be an 90 min ordeal, with the whole flight being held up, and us being told that our baggage was going to be offloaded and so would we.
The reason I've given these details is because I can see the trolls have started, so this post is to clarify few things for you.
I'm heartbroken to be told that some Capt won't fly my daughter as she can't sit on her own seat for no fault of hers.
I don't know what I'm going to do next but I clearly don't intend to stop flying!!! THIS IS MY LAST POST!"
Scoot is a low-cost airline owned by the Singapore Airlines Group. The incident comes just a day after Singapore Airlines came under fire for a commotion on board a flight to Kolkata for allegedly threatening to call the police to arrest passengers after a lengthy delay on a faulty aircraft caused passengers becoming sick