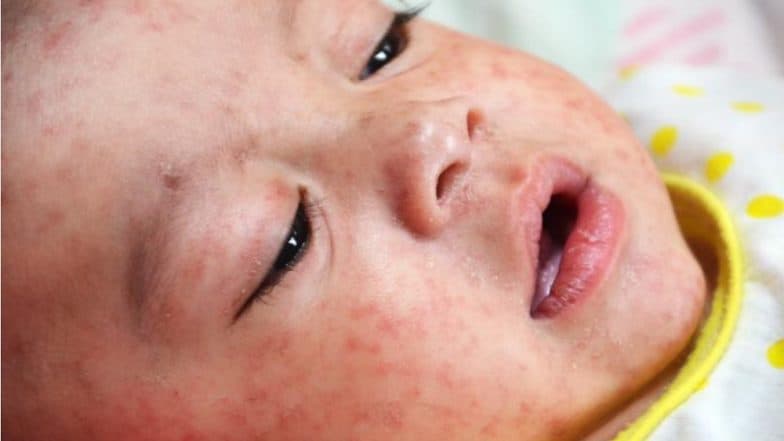 Mumbai, April 25: The spread of measles and its resurgence has touched a new record in the U.S., years after the government officially declared it eradicated from the country. In 2000, US Health officials had recorded that measles had been eliminated from the country due to intense vaccination programmes. But in 2019 close to 700 cases of measles have been reported from across the U.S.
Health and Human Services Secretary Alex Azar released a statement saying, "The United States is seeing a resurgence of measles, a disease that had once been effectively eliminated from our country," he said and acknowledged the significance of the number of cases.
The states who have reported the resurgence in measles cases are Arizona, California, Colorado, Connecticut, Florida, Georgia, Illinois, Indiana, Iowa, Kentucky, Maryland, Massachusetts, Michigan, Missouri, Nevada, New Hampshire, New Jersey, New York, Oregon, Tennessee, Texas and Washington.
Measles is a contagious disease that spreads through the air and cause by a virus of the paramyxovirus family. Un-vaccinated people are highly susceptible to it especially if they come in contact with the virus through sneezing or touching. Measles symptoms include bright red spots on the face, high fever and cough. Severe cases in children can lead to death which is why the World Health Organisation is working with developing countries to ensure a robust vaccination programme.
So how did measles rare its splotchy head in the U.S. when it was eliminated? US Health officials say that children who have not been vaccinated and have travelled to countries where the measles virus still exists became carriers as they came back to the U.S. The spread has been reported in communities where a new anti-vaccination attitude has taken hold. Read: Google Employees Worried of Measles Spread in HQ
For instance, New York declared a public health emergency over the measles outbreak and it began when an un-vaccinated child became infected while visiting Israel, according to health officials. The conservative Jew community has reported a high-rate of lack of vaccination for measles for its toddlers. The CNN reported that off the number of measles cases registered with health institutions last week, 72% are unvaccinated, and 18% have an unknown vaccination status.