The crying girl in the pink sweater is quickly becoming the human face of President Donald Trump's new "zero-tolerance" immigration policy, which has resulted in separations of undocumented parents from their children.
The photograph taken by John Moore for Getty Images, was captured as the child and mother from Honduras entered the United States illegally after using a raft to cross the Rio Grande from Mexico. The 4000 kms-long Rio Grande river forms more than half of the U.S.-Mexico border and crossing it presents a daunting final hurdle before immigrants can step onto U.S. soil. "I had requested [access] a couple weeks ago, because of the Trump administration's new 'zero-tolerance' approach to border immigration," the photographer John Moore explains. "During the course of my visit, I photographed agents chasing immigrants through sugar cane fields and observed immigrants crossing over from Mexico by raft. I also photographed agents taking into custody many Central American families who had arrived to seek political asylum."
It was about 11pm when U.S. Customs and Border agents came across a group of illegal immigrants who had crossed in from Mexico using a raft across the Rio Grande. They were detained and each one separated from the group before being checked for weapons and/or contraband. The 2-year-old Honduran girl and her mother had travelled some 3000 kilometres from home to seek asylum. "The mother told me they had been traveling for a full month and were exhausted," says Moore, who speaks Spanish. "They were taken into custody with a group of about 20 immigrants, mostly women and children, at about 11 p.m."
Moore told CNN's Ana Cabrera, "The mother of the girl in the pink sweater was asked to put down her child as the agents did a body-check against the vehicle. And right then, in that moment, the little girl broke into tears."
Since the Trump Administration instituted a 'zero tolerance' policy, all illegal immigrants are detained by U.S. Border Patrol agents before being sent to a processing centre for possible separation as they are now processed as criminal aliens. U.S. Attorney General Jeff Sessions also said that domestic and gang violence in immigrants' country of origin would no longer qualify them for political asylum status. Nearly 2,000 immigrant children were separated from their parents over a period of about six weeks in April and May, according to the Department of Homeland Security.
The Trump administration continued to falsely insist that only Congress can end the practice of separating children from their parents at the US border. "We need Congress to fully fund our ability to hold families together through the immigration process. And until these loopholes are closed by Congress, it is not possible as a matter of law to detain and remove whole family units who arrive illegally in the United States," Department of Homeland Security Secretary Kirstjen Nielsen said. Upon being pressed on why rates of separation are higher now compared to past administrations, Nielsen insisted Trump's hands were tied. "I think the President is trying to find a long-term fix. So why don't we have Congress change the laws?" she said.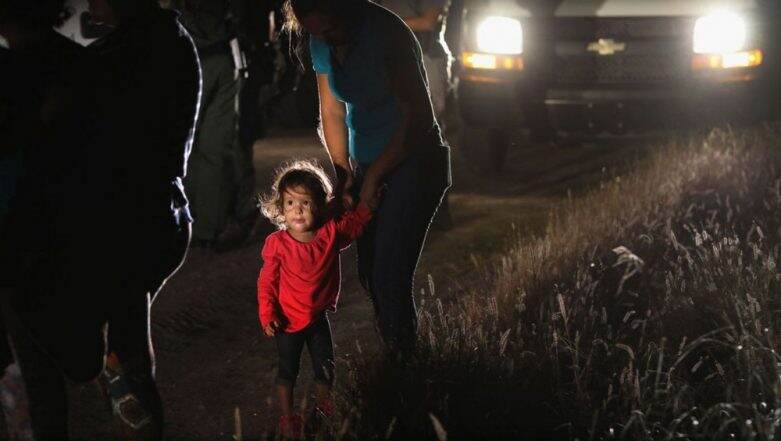 Moore told CNN he doesn't know what happened to the little girl and whether she was separated from her mother. "The process of separation of families happens away from (camera) lenses," he said. "I was able to see about as close as one can get to what it really looks like."
Moore, a Pulitzer Prize winner and special correspondent for Getty Images, has been documenting the immigrant experience for a decade, riding along with both Border Patrol agents and immigrant trains in order to get the story.