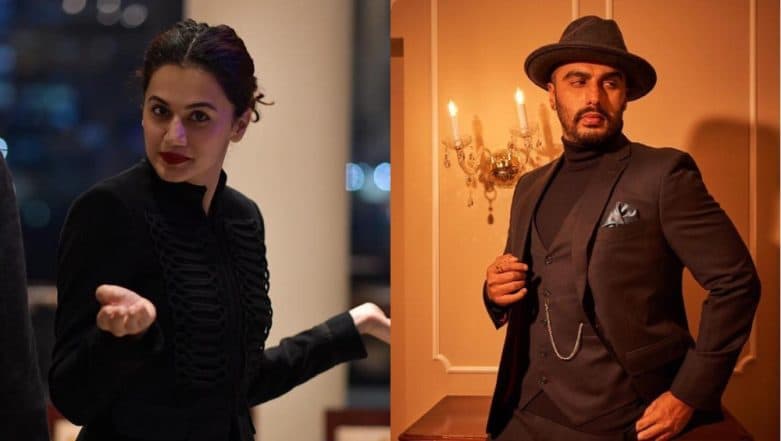 In case you have not noticed, publications tend to mention only the heroes of the film in the headline when they write about it. The reasons include the word limit and the subsequent need to attract more readers. But all said, things need to change with the changing times. Arjun Kapoor, Taapsee Pannu and Kriti Sanon sort of have taken the lead in making this change happen. Taapsee slammed a publication a few days back for omitting her and Kriti from the headline. Today, Arjun has schooled a publication on the same issue. Completed 60% Shooting of 'Panipat': Arjun Kapoor.
Arjun took to Twitter to reshare an article that only mentioned his and Kartik Aaryan's name when talking about the clash between Panipat and Pati, Patni aur Woh. He said that we should name the heroines as well when we refer to the movies. "It's high time; equality begins with the headline," he wrote.
I think we ought to include @kritisanon @bhumipednekar & @Official_Ananya s names when we refer to our films... it's high time equality begins with the headlines... https://t.co/eb5BNEUCln

— Arjun Kapoor (@arjunk26) March 24, 2019
Earlier, Taapsee had also called out a publication for missing her name in a tweet when referring to Badla. Kriti Sanon had chimed in on Taapsee's tweet and said that she understood where this anger is coming from. Badla Box Office Collection Day 15: Amitabh Bachchan and Taapsee Pannu's Crime Thriller Grosses Rs 81.88 Crore.
मेहनत शायद इन फ़िल्मों की लड़कियों ने भी उतनी ही करी है .... लगता है समय नहीं मिला होगा आपको लिखने का :) https://t.co/ysF49CDZPQ

— taapsee pannu (@taapsee) March 16, 2019
👏🏻👌🏻😂 @taapsee #ifeelyougirl ;) https://t.co/74Ny88UrRa

— Kriti Sanon (@kritisanon) March 16, 2019
As we mentioned, the limitations of the word count sometimes force publications to run the headlines with only the more popular actors mentioned. But there are times when the names of the women are ignored, just because... So, after the legit criticism, it is time for all of us take a moment and think about it and do something to bring about a change. We are certainly going to. What are your thoughts on the same? Tweet to us @latestly. Bhumi Pednekar: From Actors, the Power Has Come Back to Writers and Directors.
Arjun Kapoor and Kriti Sanon will be seen together in the movie, Panipat. The movie will be clashing with Kartik Aaryan, Bhumi Pednekar and Ananya Pandey's Pati, Patni Aur Woh on December 6, 2019. There is enough room for two movies to release on the same day, so no one should be worried about the clash.