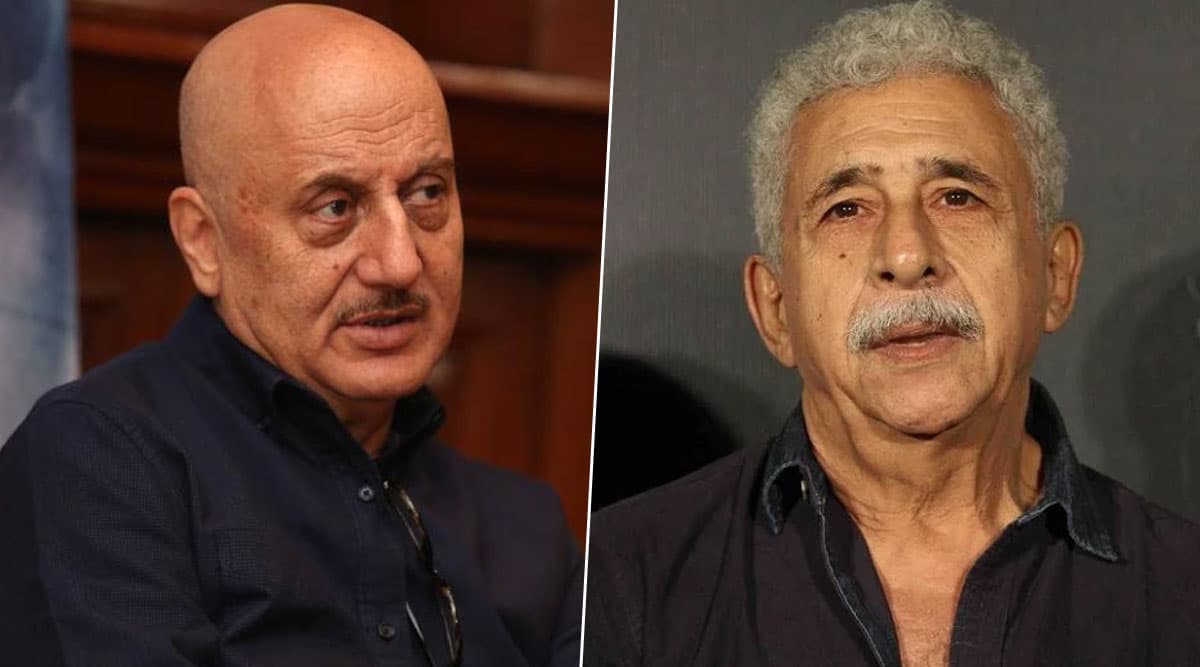 Naseeruddin Shah gave a very controversial interview to The Wire's Siddharth Bhatia recently. In the hard-hitting interview, Naseeruddin Shah took potshots at PM Narendra Modi, Home Minister Amit Shah and their incessant attempts to implement the Citizenship Amendment Act and National Register of Citizens across the country. He also criticised the Bollywood superstars for their silence over these issues. Shah, however, has the most disparaging comments for fellow actor Anupam Kher, whom he called 'clown' and a 'sycophant'. Naseeruddin Shah Calls Anupam Kher a 'Clown'; Mocks PM Narendra Modi's 'Entire Political Science' Degree (Watch Video).
In response, Anupam Kher tweeted a video of his where he slams Naseeruddin Shah for his comments. Speaking in Hindi, Kher claims that he never took Shah and his statements seriously, and he has never badmouthed the actor before. But now he would like to say something. Kher says that since Shah has criticised Dilip Kumar, Amitabh Bachchan, Rajesh Khanna, Shah Rukh Khan and Virat Kohli in the past, then he is glad to be in great company. He added that none of them took his statements seriously, because they know that it was not Shah but the substance (?) that he has been taking in, which is making him say so. Naseeruddin Shah Gets Trolled on Twitter for Calling Colleague Anupam Kher a 'Clown' and 'Sycophant' (Read Tweets)
Kher also accused Shah of spending his life in frustration, even after achieving success, which is what makes the latter often make such statements. Wishing him the best, Kher ended the video by saying that his blood has Hindustan in it.
Watch the video below:
जनाब नसीरुदिन शाह साब के लिए मेरा प्यार भरा पैग़ाम!!! वो मुझसे बड़े है। उम्र में भी और तजुर्बे में भी। मै हमेशा से उनकी कला की इज़्ज़त करता आया हूँ और करता रहूँगा। पर कभी कभी कुछ बातों का दो टूक जवाब देना बहुत ज़रूरी होता। ये है मेरा जवाब। 🙏 pic.twitter.com/M4vb8RjGjj

— Anupam Kher (@AnupamPKher) January 22, 2020
BTW, Naseeruddin Shah is not on Twitter, so don't expect him to respond to the video. Unless he gets to give another interview.
Naseeruddin Shah and Anupam Kher have acted in quite a few films like Karma, Lootere, Tridev, Dus Kahaniyaan, A Wednesday, etc. Looks like there is huge love lost between the two over the current socio-political climate. Well, we are looking forward to having these two be a part of an on-air debate, where they get to challenge each other's views.