Subhash Ghai had joined the growing list of Bollywood celebs accused of sexual harassment in the wake of the #MeToo movement. More than three women have accused Ghai of sexually assaulting them, with one woman, who worked as an AD with him, even claims that he had spiked her drinks and raped her when she was unconscious. The ordeal of this anonymous woman has gone viral and Twitterati wants the authorities to take strong action against the film-maker. #MeToo Movement: Subhash Ghai Accused of Drugging and Raping Woman; Filmmaker Alleges Defamation
As the voices against him got stronger, Subhash Ghai finally put up his statement on Twitter. Sorry to say, there was neither apology nor denial, just some incoherent rambling which makes little sense with the lack of punctuations. The gist we get is that the 'Showman of Bollywood' is deeply pained to be 'gripped' in the #MeToo movement. He also thanks those who know how he 'shower' his respect to women and their dignity. Something something something! Hrithik Roshan's Super 30, Akshay Kumar's HouseFull 4- Popular Projects in Trouble After #MeToo in Bollywood Gets Stronger!
Destiny shows u good times bad times-I m deeply pained 2b gripped in this movement but thank those who know me n my respect I shower to women n their dignity in spite of our cosmetic world we live n react more thru our love affection n respect Now seen in different perspectives

— Subhash Ghai (@SubhashGhai1) October 12, 2018
The responses to his tweet are people trying to exactly figure what the director, who made popular blockbusters like Ram Lakhan, Khalnayak, Pardes and Taal, is trying to say through his tweet.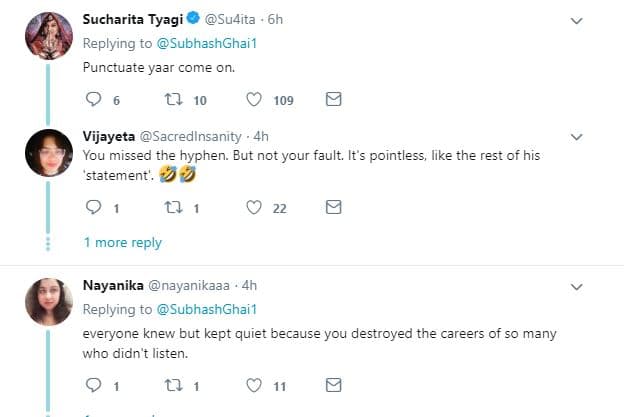 We hope that someone from his team at least put up a proper apology note (which is useless to say, after reading the victims' experiences) or a strongly-worded denial note.