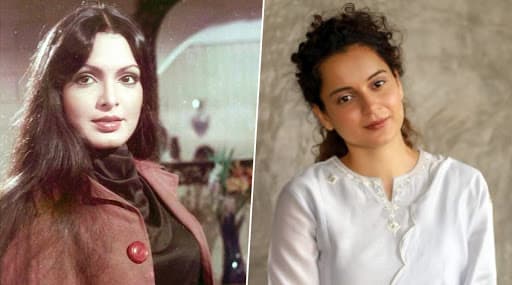 There are many tragic stories in Bollywood in real life. Be it Meena Kumari's controversial life or Parveen Babi's controversial death, there are tales that have never been explained. Then there are cases of actresses and their links ups with Amitabh Bachchan. One of them is Parveen Babi. An old interview of the actress has surfaced on Youtube, where she is talking about her favourite actors in the filmdom. While she named the likes of Sanjeev Kapoor, Dilip Kumar and Jaya Bhaduri, her most favourite is Amitabh Bachchan. Boney Kapoor To Make a Documentary on Sridevi: From Guru Dutt to Parveen Babi, the Actors Who Deserve the Same Honor
Well, all that is great because we heard a lot of tales about how she had a soft spot for Big B always. But it's the comments that will get you cracking. There were many who loved to see Babi in the video and commented about how beautiful she looks, there were also those who felt she sounded like Kangana Ranaut.
We hope you can make the connection here...
Check Out the Video:
Now check out the comments
People do have a wild imagination. We wonder how they arrived at this conclusion that Babi sounds like Kangana Ranaut. Surprisingly, when we tried to match the voice, we found out they do sound a bit similar and we are just talking about the manner of speech and not the content.