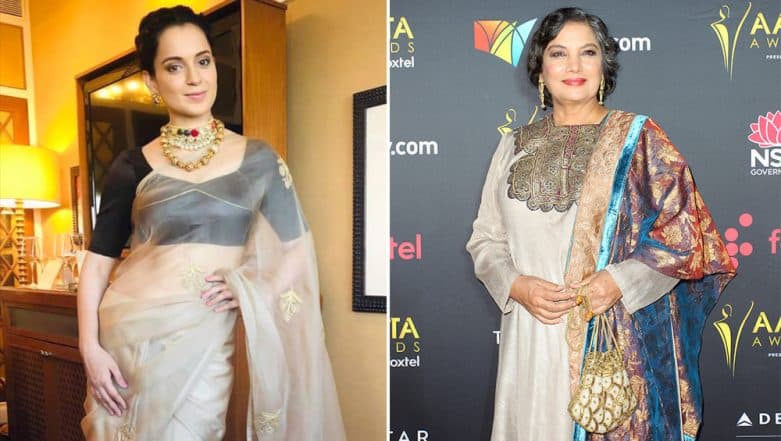 Kangana Ranaut certainly doesn't like to mince her words and she's quite vocal about her feelings or beliefs. From calling out Karan Johar for promoting nepotism in Bollywood to blaming Suzzanne Khan for supporting Hrithik Roshan, she has always been fearless with her expressions and that's a quality that we admire in her. So when you ask her to react to the recent terrorist attack in the Pulwama region of Jammu & Kashmir, she will clearly share her thoughts and even suggest an ideal way to tackle the situation. While Bollywood celebs are condemning the attacks that killed over 40 CRPF Jawans, Kangana believes banning the Pakistani artists is no more the solution to it. Pulwama Terror Attack: Kangana Ranaut Cancels Manikarnika Success Party, Says We Need to Take Decisive Actions Against Pakistan.
In her interaction with Pinkvilla, when she was asked to react to the Pulwama terrorist attack, she said, "Pakistan has not only violated our nation's security they have also attacked our dignity by openly threatening and humiliating us, we need to take decisive actions or else our silence will be misunderstood for our cowardice." Going further she also targeted Shabana Azmi as anti-national.  Shahid Kapoor, Priyanka Chopra, Ajay Devgn and Varun Dhawan Condemn The Jammu And Kashmir Terrorist Attack That Killed CRPF Jawans.
Earlier in the day, Javed Akhtar and Shabana Azmi had declared that they won't be attending the Karachi literature festival as a respect to our martyrs. And this was clearly not digested very well by Ms Ranaut. She slammed the veteran actress by saying, "People like Shabana Azmi calling for a halt on cultural exchange, they are the ones who promote Bharat Tere Tukade Honge gangs. Why did they organize an event in Karachi in the first place when Pakistani artists have been banned after Uri attacks and now they are trying to save face. Film industry is full of such anti-nationals who boost enemies morals in many ways but right now is the time to focus on decisive actions. Pakistan ban is not the focus, Pakistan destruction is." Well, the event was organised in Dubai and not Karachi so we guess, that answers her query about why the event was organised in that city.  Twitterati Demand to Boycott the Kapil Sharma Show After Navjot Singh Sidhu's Comment on the Recent Pulwama Terror Attack.
She believes being calm is no longer the solution and anyone who advocate the philosophy should be slapped hard."Bharat is bleeding today, the killing of our sons is like a dagger in our gut, anyone who lectures about non-violence and peace at this time should be painted black, put on a donkey and slapped by everyone on the streets." Well, such strong reactions are only expected from her and we wonder what Shabana Azmi has to say about this.