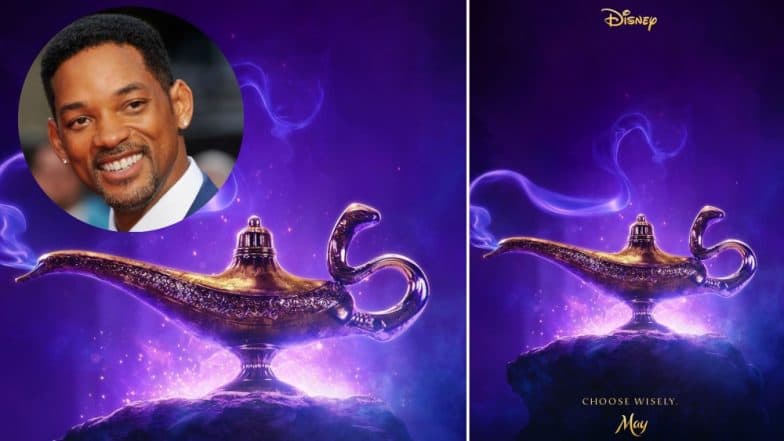 It's finally here! Aladdin's magic lamp is here. No, I am Jafar, the power-hungry Grand vizier of Agrabah but the sight of the lamp of Disney's live-action Aladdin movie poster has got me super excited. And can you guess who is teasing with the first look of Guy Ritchie-directed film? It is none other than the new 'Genie of the Lamp' – Will Smith! The Hollywood biggie shared film's poster on his Instagram handle on Thursday. With over 30 lakhs likes in just a few hours, it is turning out to be an internet-breaking moment.  Shah Rukh Khan Inspires Aladdin? Siddharth Nigam-Avneet Kaur's 'Aladdin – Naam Toh Suna Hoga' Teaser Video Holds the Answer.
Speaking of the poster, the makers tease us by choosing to show the magic lamp and not the main cast. It shows a rustic yet finely-detailed golden ancient lamp, which we (the 90s kids) will remember from Disney's 1992 animated Aladdin movie. Below it, two words are written, more like a warning - 'Choose Wisely'. Interesting! Underneath it, the magical poster mentions the release month as May but not the specific date, which is May 24, 2019! Will Smith Performs Ganga Aarti in Haridwar - Watch Video.
See First Look of 2019 Aladdin Movie Shared by Will Smith!
However, it is Smith's caption that adds as exciting information. It reads, "LEMME OUT!! 🧞 Can't wait for y'all to see Me BLUE! :-) #aladdin." Yes, especially with that blue Genie emoji, we just cannot wait to see Will Smith's Genie avatar. The fictional character popularised by late American actor Robin Williams remains fresh in our minds. There are so many happy memories linked with Robin's Genie who was fun, crazy, faithful and a loving jinni. As fans of previous Genie, we are both excited as well as nervous to see the new Genie played by Smith.
When Guy Ritchie and Disney first announced the making of live-action Aladdin movie, it found itself in several controversies, especially over the movie cast. They were accused of 'whitewashing', and 'colourism' as Aladdin is based on Arabic folktale of the same name from One Thousand and One Nights, and white actors were cast over brown as it right should have been. After facing much backlash and courting controversies, the film has Mena Massoud as Aladdin, Naomi Scott as Princess Jasmine and Will Smith as Genie in the primary cast. They look forward to getting same love and appreciation as Disney's original Aladdin film.