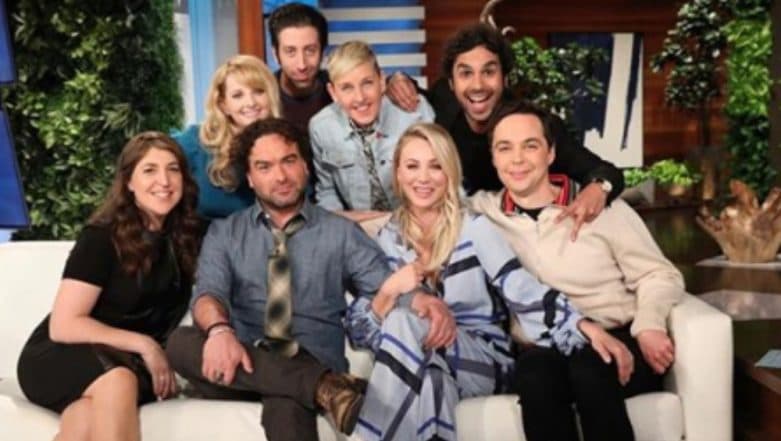 After a long and entertaining run, American sitcom The Big Bang Theory is coming to an end. The cast and crew are filming the final season, and it goes without saying that emotions are running high. The entire cast -Johnny Galecki, Jim Parsons, Kaley Cuoco, Simon Helberg, Kunal Nayyar, Melissa Rauch and Mayim Bialik - were at The Ellen DeGeneres Show talking about the end, when things got a lil emotional and funny. Kaley revealed how she ended up bawling weeks back while rehearsing for a scene, which resulted in a huge group hug with all the camera guys crying along. Gigi Hadid Is Going Gaga Over Priyanka Chopra's Hot AF Appearance For The Ellen DeGeneres Show - Read Her Comment!
Then Jim, who plays Sheldon Cooper on the show, took over the spotlight. He revealed he has not cried yet and is very scared as to what might happen. He said that he might lose his sh*t. Kaley, not only nods in agreement, but adds, "We are all scared of that!"
Watch the cast of The Big Bang Theory chat up with Ellen DeGeneres Here:
The Big Bang Theory's  12th season would be its last. There were rumours that a spin-off of the show will take the story forward without Sheldon Cooper. Johny, who plays Leonard on the show, has quashed the rumours in November. Johny has also said, "I just hope whatever we're doing in that last episode it justifies the characters all crying because I know the cast will be," Ellen DeGeneres Staged A Friends Reunion For Courteney Cox And Lisa Kudrow And We Wish We Were There To Watch Them!
The cast and crew are left to shoot for only a couple of episodes more. We hope the makers make this last worthwhile. We have been here for 12 long years. And we hope this won't be a letdown like the final season of How I Met Your Mother. That one still hurts.