Priyanka Chopra's got a new fan in Gigi Hadid! Or perhaps it's the outfit that left her mesmerized. Just so you know, Priyanka is making her second appearance on The Ellen DeGeneres show. And just like last time, this time too, the actress chose to keep things as chic as possible. In fact, we think she might have been a bit too hot for words. The diva opted for an extremely gorgeous Vivienne Westwood number. The dress with its interesting neck surely made everyone crush hard on her. Everything else about the look was pretty minimal, which actually worked!
Anyway, the look was completed with a pair of silver strappy Jimmy Choo sandals. Needless to say, the diva totally looked like the walking embodiment of the fire emoji. And we're not the only ones who think that. Supermodel Gigi Hadid, too couldn't contain her emotions when she saw Chopra's this look. As the picture was shared by the Isn't It Romantic? actor's stylist, Hadid commented, "OMMGGGGG @priyankachopra so maaaajor mimigurl" You can check out the picture and Gigi's reaction below.
View this post on Instagram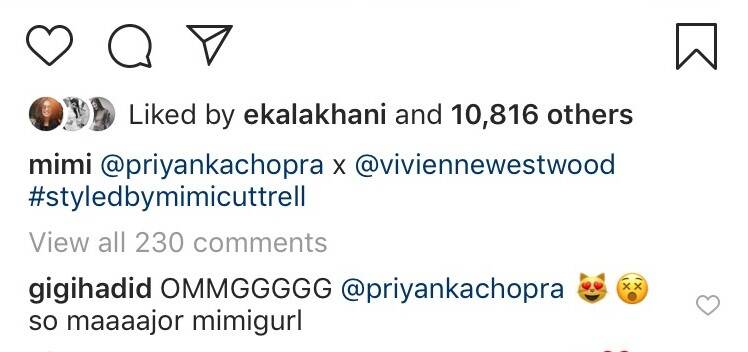 In case you folks didn't know, Gigi and Priyanka share the same stylist, Mimi Cuttrell so possibly the fact that Cuttrell's latest styling gig impressed Gigi so much that she commented on the post. It sure would be fun to watch Gigi and Priyanka under the same roof, sharing tidbits on how their stylist is super talented when it comes to styling them! Or perhaps they could talk about love since both are very romantic. Let's just hope this happens! Currently, is caught up with quite a few commitments, both professional and personal. Before her film, Isn't it Romantic? she will be seen on Ellen's show
(The above story first appeared on LatestLY on Jan 30, 2019 12:09 PM IST. For more news and updates on politics, world, sports, entertainment and lifestyle, log on to our website latestly.com).