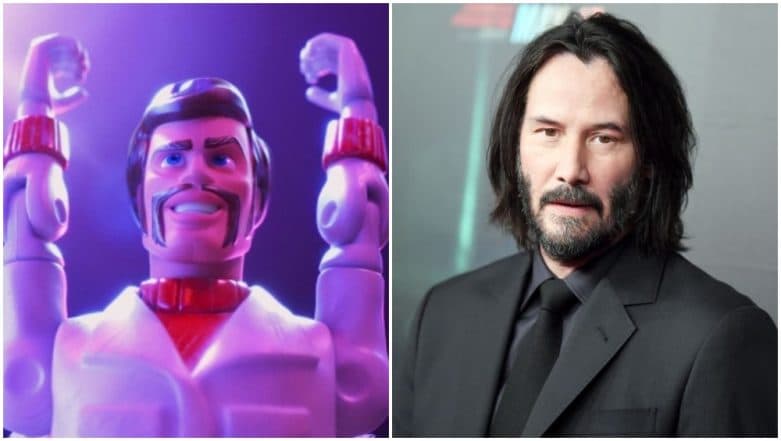 Despite being an unwarranted sequel, Toy Story 4 ended up being a very entertaining and emotional film that lives upto the high quality of the franchise. Directed by Josh Cooley, Toy Story 4 delves into the emotional dilemma of Woody the Cowboy (voiced by Tom Hanks), as he contemplates between keeping his human owner happy or finding a new meaning to his life. Toy Story 4 marks the return of Woody's former lover, Bo Peep (voiced by Annie Potts), who wasn't there in Toy Story 3. Toy Story 4 Movie Review: Disney-Pixar Gives an Emotionally Satisfying Closure to Woody's Arc (Hopefully).
There were also new characters in the film, that turned out to be quite scene-stealing ones, like Forky (Tony Hale) and Gabby Gabby (Christina Hendricks). The most notable of them is Duke Caboom, a Canadian Bike Stuntman toy that has been voiced by the inimitable Keanu Reeves. Caboom not only gave us some very hilarious laughs, but he also represents the exaggerated marketing claims to sell a toy. And there is another surprise about the character, that some of the eagle-eyed Pixar fans have noticed. Keanu Reeves Is Internet's New Favourite Boyfriend And He Doesn't Even Know Why!
Duke Caboom may be a new entry to the Toy Story franchise with the fourth instalment, but he is not new to the Pixar franchise. The toy was earlier seen in the 2018 film Incredibles 2 as one of Jack-Jack's toys (thanks to the @FilmEasterEggs). What a lovely, interesting detail!
#DukeCaboom from #ToyStory4 was one of Jack-Jack's toys in 'Incredibles 2' pic.twitter.com/SUvoUz1ckv

— Hidden Easter Eggs (@FilmEasterEggs) June 24, 2019
This is not the first time Pixar has put secret character cameos across different properties. Nemo from Finding Nemo was seen as a toy in Monster's Inc. Toy Story's Hammy was seen in the background during a scene in Wall-E. Lotso from Toy Story 3 could be noticed in Up, and so on. So the next time you watch a Pixar movie, do keep an eye on the details in the background. Who knows what you can catch on!