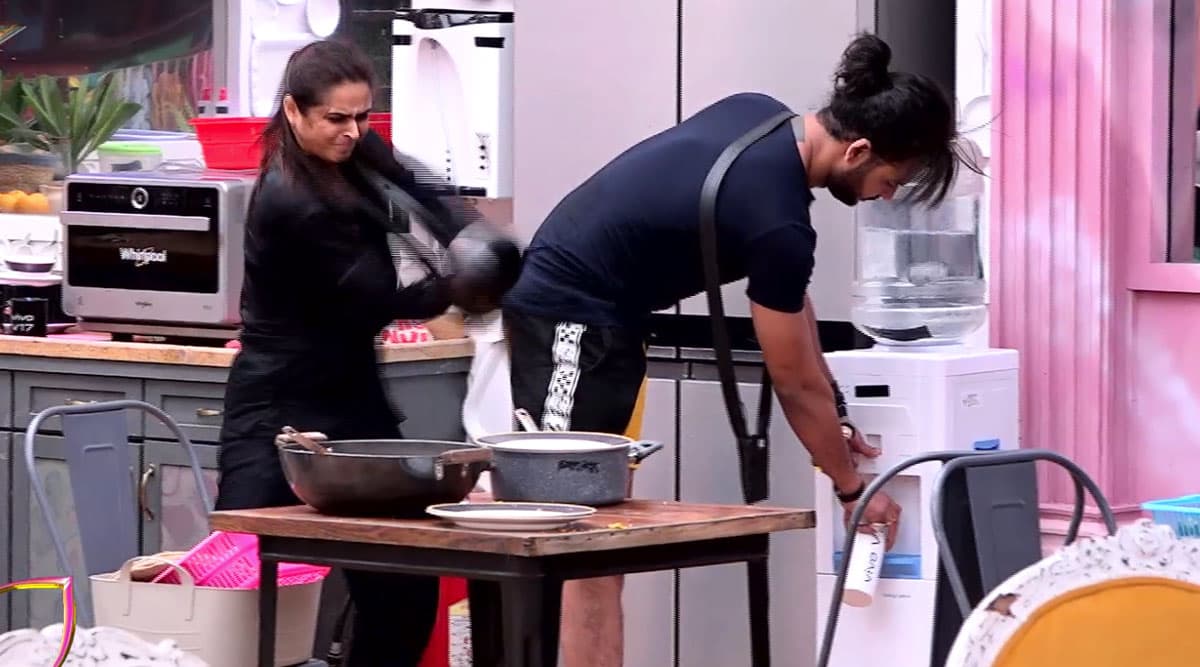 This year Bigg Boss 13 is turning out be a chaotic show. From pushing, throwing tea, abusing to getting violent to another level, things in the current season are not well at all. But what we saw last night, was a fight we never witnessed in the history of the controversial series. Elaborating on the same, it was Madhurima Tuli and Vishal Aditya Singh who created mayhem wherein we saw the former hitting the man with a frying pan. And in one word, if we had to describe the whole scenario then it was literally gross. Bigg Boss 13 Day 109 Preview: Sidharth Shukla Overjoyed As He Meets His Mother.
The incident started when Rashami Desai told Vishal to make tea for her. In the same conversation, Tuli also jumps in and tells Vishal to make two cups, but he refuses to do so. Amidst this, Asim Riaz tells Tuli to make tea instead, to which she also refuses and calls Vishal behenji. The man warns Tuli to stop and also throws water on her. This agitates her and in a fit of anger, she beats Vishal with a pan on his arse. Now, this one incident has made Twitterati upset over Tuli's violent behaviour. Check out a few tweeple reactions here: Bigg Boss 13: Madhurima Tuli Assaults Vishal Aditya Singh With A Frying Pan (Watch Video).
Rightly Said!
I am a fan of #MadhurimaTuli but in this matter I am supporting #VishalAadityaSigh he was in pain ya agar paani dala toh paani dalkar khatam Kar dete Yaar💔 I gusee this is end of #ViRima

— Pooja (@_seemetoknowme) January 15, 2020
Vishal Has Patience!
I really salute #VishalAadityaSigh for his patience.

Btw, he deserves to stay in this house. Because, he is ENTERTAINING

Not like this psycho #MadhurimaTuli , who just know to do senseless fights. #BB13 #BiggBoss13 @ColorsTV @EndemolShineIND @BiggBoss

— Asim Riaz ka Fan (@AsimRiaz_Ka_Fan) January 15, 2020
In Favour Of Singh!
I Feel sad for #VishalAadityaSigh he is really good human being. #MadhurimaTuli is disgusting and I don't know why #ShehaazGill is taking her side?? No one deserves what Happened with Vishal.

— Sunny Rana (@SunnyRa89888341) January 15, 2020
Madhurima Tuli Is Wrong!
#MadhurimaTuli deserves to be out of this house. Whatever she did was morally wrong.. what if #VishalAdityaSingh slapped her to answer her physically abuse? Would she have taken it? Would #BiggBoss13 take it? Would the people outside taken it? No, she HAS to ne out. #BB13

— . (@LegitAsimFan) January 15, 2020
Do You Agree?
#MadhurimaTuli is a psycho...ilaj krao koi iska👎 #VishalAadityaSigh

— Swati Dhiman (@SwatiDhiman12) January 15, 2020
Well said!
First time in #BB13 I liked #ParasChabra

Neeji mamlame khoon bhi karegi kya that's was right#MadhurimaTuli should get eliminate for what she has done today

After doing all that she is not every saying sorry jarasa bhi regret nahi hein#ShowStopperAsim #AsimRaiz

— Hawkeye (@Hawkeye60073789) January 15, 2020
Are You Listening Vishal?
I want #VishalAdityaSingh to never meet #MadhurimaTuli after this show.

Its about self-respect. Madhurima is really dangerous ! She really has behavioral issues. #BiggBoss13

— 🌸 (@parashikha) January 15, 2020
While Twitter has shown support to Vishal over Madhurima, what's your take on their violent fight? Do you think Madhurima Tuli crossed her limits? Or do you feel that Vishal should have not started the argument? Let us know your comments on the same. Stay tuned to LatestLY for all the updates from BB 13!