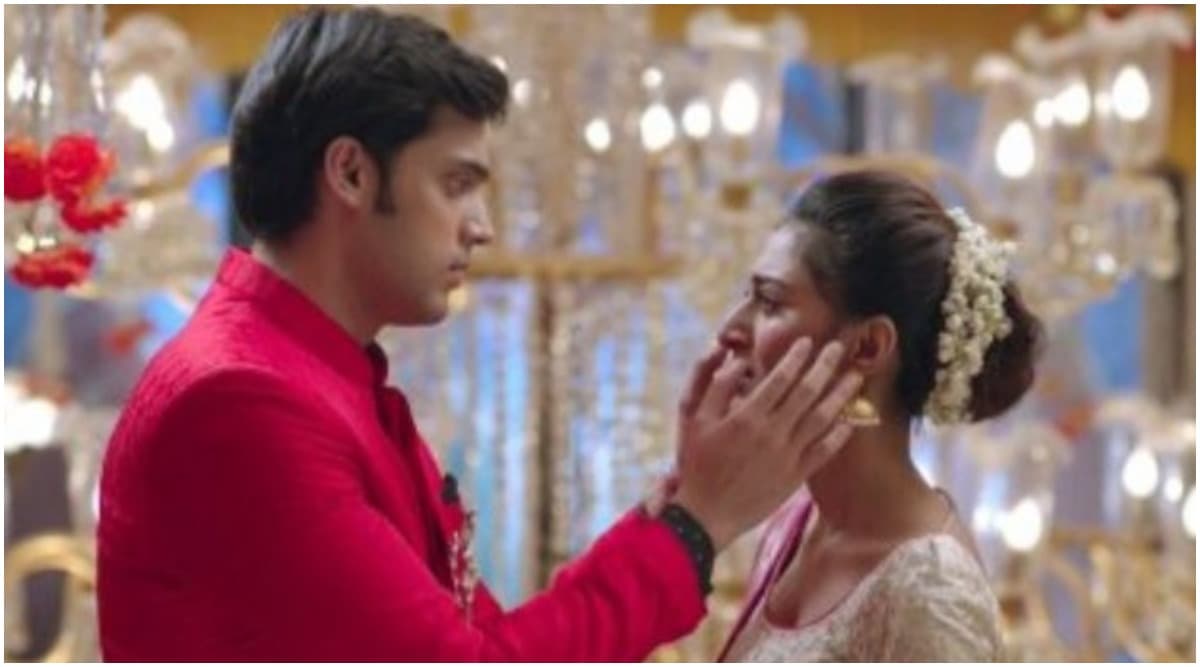 In yesterday's episode of Kasautii Zindagii Kay 2, Shivani chases a disguised Ronit while Sonalika tries to instigate Viraj. Everyone is left surprised when Anurag and Prerna share a romantic dance. In tonight's episode, we see  Anurag (Parth Samthaan) takes Prerna (Erica Fernandes) to his room as her foot was paining. Mohini gets angry seeing  Prerna with Anurag and tells Moloy to tell  Prerna to be in her limits. Moloy and Mohini get into an argument with each other. Moloy tells Mohini that she is not a good mother and she does not care about her children's happiness. Mohini gets furious, Nivedita comes and calms her down. Kasautii Zindagii Kay 2 January 14, 2020, Written Update Full Episode: As Sonalika Instigates Viraj against Prerna, Anurag Enjoys a Romantic Moment with the Latter on the Dance Floor.
Veena accompanies Prerna and Anurag to his room. Meanwhile, Anupam gets suspicious when he sees a waiter going behind Prerna and Anurag. Anupam follows the waiter and tells him to stop but he runs seeing Anupam.  Anurag asks Prerna to keep her leg up and massages her foot gently. Viraj comes and sees Anurag massaging Prerna's foot and gets disturbed. Anurag tells Prerna that during pregnancy such cramps are common and tells her to take rest for a while and then come down.
Viraj tells Anurag that he wants to talk to him and takes him to another room. Prerna tells Veena that Anurag does not remember anything but still, he cares for her. Veena tells Prerna that Anurag always supports her and cares for her but he is not her husband. Prerna tells Veena that Anurag will himself break her and Viraj's marriage one day.
Viraj tells Anurag that he wants to talk to him regarding their marriage. Anurag asks did Prerna told him something as she is moody but she does not mean what she says. Viraj tells Anurag that he knows Prerna so well. Viraj asks Anurag does he loves Prerna? Anurag says yes he does.
Ronit on the other side thinks that he cannot sit hiding for the whole day as he has to kidnap Prerna. Ronit sees the metal vase on the table and picks it up and goes out to search for Shivani. Ronit sees Shivani and hits her on her head making her unconscious. Ronit picks her up and ties her with a rope and locks her inside the wardrobe.
Anurag tells Viraj that he loves Prerna as a friend and nothing else. Anurag tells he cares for Prerna as she is Rajesh's daughter and he will always stand beside her whenever she wants him. Anurag tells that he is married and tells sorry to Viraj if he felt uncomfortable because of him. Viraj is happy to know that nothing is there between them and tells Anurag that he loves Prerna. Viraj tells Anurag that he will go and propose Prerna. Anurag tells him he is happy for him.
Anurag gets disturbed as to why Viraj had this thought that he loved Prerna. Anurag thinks maybe he is behaving like this and thinks he should not involve too much on Prerna's matter and stay away from her. Suddenly Anurag gets vivid flashbacks of his past and gets disturbed.
 In the precap, Sonalika asks the doctor to give her some medicine for Anurag so that he forgets his past. Sonalika mixes the medicine in water and tells the waiter to give it to Anurag but Prerna drinks that water.  Prerna gets emotional and tells Anurag that she loves him, Viraj sees Prerna and Anurag in each other's arm.