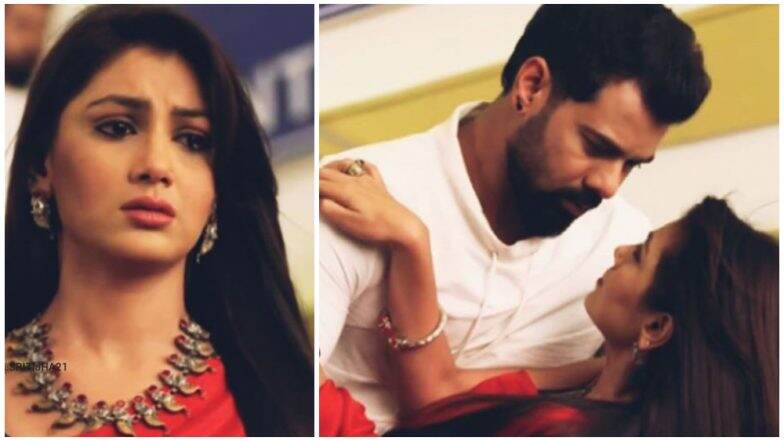 Today's episode of Kumkum Bhagya starts with Media questioning Police about the terrorist. Inspector asks his constables not to let anyone go and talks to his commissioner. King comes home and asks the Servant to bring something for him to eat and says he will not go without Pragya (Sriti Jha). He thinks why Chachi is overreacting as Pragya is in the mall and Abhi (Shabir Ahluwalia) is in the marriage. He switches on the TV and sees the terrorist attack news in Centra Mall. He gets shocked. Chachi gains consciousness and slaps Tarun and scolds him for taking Abhi's side. Tarun says which husband and wife sleep in different rooms. Chachi says they might don't love each other, but shall be together for Kiara. Disha comes there and tells that husband and wife shall stay together for the child. She tells that Kiara is Abhi's daughter and Pragya is not married to King. She shows her report on her mobile and tells that Pragya and Abhi shall be together. Chachi is shocked.
Inspector tells that the terrorists are killing people inside. Abhi reaches there. Inspector stops him and says it is not safe inside. Abhi says that he can help them and tells that my wife is inside, and he can do anything to save Pragya. Abhi says he did this before also. Inspector asks who are you? Abhi says he is a rockstar. The Inspector asked if he will sing? He asks him to go. Abhi thinks to go from another way. The terrorists shoot the lady in the mall. Pragya is shocked. She picks Abhi's call, but the terrorist catches her and takes her phone. A girl tells that she wants to go home to her Mamma. The terrorist is about to shoot her, but Pragya pushes his gun and the bullets hit the wall. Terrorist tells that he will kill Pragya now for wasting a bullet and saving the girl. Abhi comes and hits the terrorist. The terrorists attack Abhi and they beat him. Pragya asks him to get up. Other terrorist tells that they must have planned to marry today. The terrorist tries to kick Abhi. Pragya asks him to get up. Abhi moves and the terrorists fall down badly injuring his leg.
Abhi runs with Pragya and sits with her. Pragya tells that she doesn't want to talk to him and asks if he didn't understand why she rejected his call. Abhi says his heart told that she wants to meet him. His fan is hiding behind the closet and tells Abhi that she wants to marry. Pragya says he is hers. Abhi smiles. He tells her that he wants to talk to her and asks why she went when she asked him to wear sherwani and come there. He ask why she is upset? Pragya says you wanted to marry me by cheating and Disha made me drink. Abhi says no and tells that she drank mistakenly. Pragya asks about his planning to marry her by cheat and says that she is married. Abhi says that he knows that she is not married to King. Abhi says that he had come to her to talk about marriage, but she was drunk. He asks why you didn't tell me that King is not your husband and Kiara is our daughter if you had told me before then we all would be together in our house. Pragya thinks of Tanu's words and tells that this can't happen. Abhi says she knows how much he loves her and that he can't live without her and miss her. He asks her to hold her hand and says that he need her.
Pragya thinks Abhi can do anything for Kiara. Abhi says that he understood that he needs her, but she doesn't need and asks her to remember that someone used to love her so much that he was ready to give his life for her. He goes and calls the terrorists, says he is out in the open. The terrorist comes and aims the gun at him. He waves his hand at them. Abhi asks them to shoot at him. Pragya puts a stick on Abhi's legs and makes him fall. The terrorist shoots and the bullet misses. Pragya tells she loves him. Abhi asks her to run. They hide. Pragya says so much changed in 7 years. Abhi says we have become parents of a daughter and tells that he got Kiara's DNA test done and the result is….Pragya says positive. Abhi says she is my daughter, my blood. He got upset that she has hidden her from me for seven years. Pragya says we are not married and says you married Tanu. Abhi says just like you married King's.
Abhi tells Pragya that Tanu and he are husband and wife in people's sight, but they are not married. He tells that he gave his name to Tanu as he promised her mum before her death that he will take care of her and give his name to Tanu. He says they used to sleep in different rooms just like she and King's. Abhi says he was and will be one woman man…Pragya gets emotional (Allah Wariyan track is played in the background)
In the precap, Aaliya informs King about Pragya being Abhi's wife. Pragya asks Abhi will he marry her.