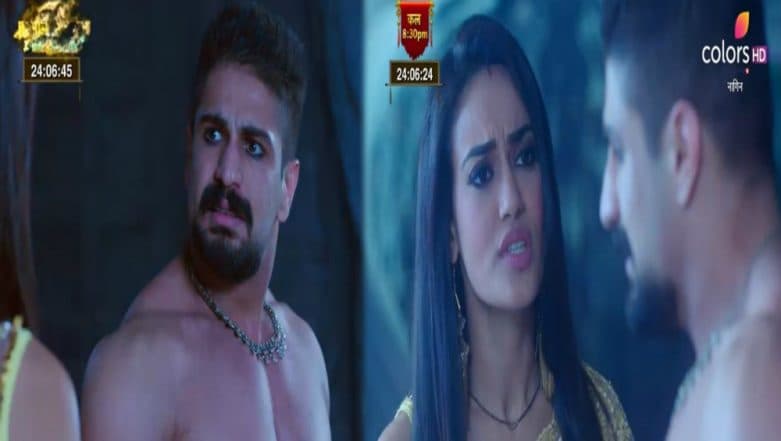 Today's episode of Naagin 3 starts with Mahir wandering about in the jungle as Bela finds him and they pull a KZK stunt with a red dupatta and all. Bela cries as she says that she would have died if anything happened to him. Vikrant sees them together.
He interrupts them as he steps to them in Yuvi's form. Yuvi takes the two home. They take Mahir to his room as Sumitra takes care of Mahir. Vikrant flirts with Bela in front of Mahir.
Later Sumitra asks Yuvi to stay with Mahir for the night. She also asks Bela to stay away from Mahir as she does not want Yuvi or Mahir to get any wrong signals from her.
Bela is sad, and Vikrant is happy to keep the two away. Vikrant goes to speak to Andy as he says that he wants to have Bela back. Andy who is under the impression that it is Yuvi says that he wants to speak to Mahir first.
Ajithab will not let Vish go, and she finally tells him that she has her own doubts that Yuvi is not actually Yuvi. There someone kills Anu as she is clicking some pictures in her room.
Vikrant in Yuvi's guise reaches Mahir's room to find another Yuvi in there. It is actually Bela. Mahir is telling Bela in Yuvi's guise that he cannot think about leaving Bela as he always thinks only of her.
This leaves Bela in tears. Later Vikrant makes an excuse to Mahir and says that he wants to spend time with Bela. He takes Bela away. Mahir is left wondering if Bela loves Yuvi or he is just forcing her to admit to his love.
Vikrant takes Bela to the haveli and asks her why she is always around Mahir. Bela says that she does not want Vikrant to hurt Mahir as she knows Mahir is a good man. She says that she does not believe Mahir could shoot Vikrant or for that matter anyone at all.
Vikrant asks Bela if she has lost her heart to Mahir. Bela confesses that she has and that, Mahir was left unaffected by her poison. She says that Mahir is her soulmate and she wants to be with him.
Vikrant is left in, and he says that he would release her of all ties and also thinks that he realises what he is losing by losing Roohi. Ajithab shows Vish a video which makes Vish sees Vikrant transforming into Yuvi. Ajithab does not get the visual, but Vish almost recognises Vikrant.