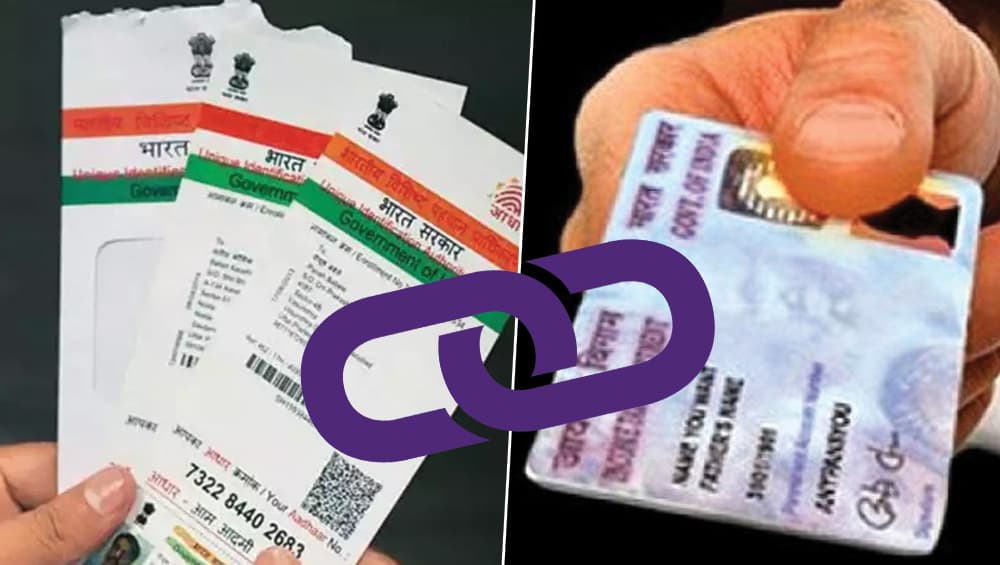 New Delhi, December 16: The last date to link Aadhaar with the Permanent Account Number (PAN) is just around the corner. It is mandatory to link PAN with Aadhaar, said Central Board of Direct Taxes (CBDT) in a public message. The last date to link PAN with biometric ID (Aadhaar) was extended till December 31, 2019, by the CBDT in September. Earlier, the deadline was September 30. How to Link Aadhaar Card to PAN Card in Easy Steps Before March 31: Know Online and Offline Ways to Link PAN Number and Aadhaar Number.
"Building a better tomorrow! To reap seamless benefits of income tax services, complete the vital link before 31st December 2019," the Income Tax Department said in that announcement on Sunday, December 15. PAN Card Online: How To Apply For New PAN Card, Make Corrections, Track & Download it Free at onlineservices.nsdl.com.
Steps to Link PAN With Aadhaar:
Click on "Link Aadhaar" (Direct Link) on the e-filing website.

A new form will appear where the user is required to fill details such as PAN, Aadhaar number, Name as per Aadhaar.

Enter the captcha code and click on submit button. Once submitted successfully, a message will appear saying "PAN is successfully linked to Aadhaar".
People can also link their PAN with Aadhaar through:
Sending an SMS to PAN service providers.

Manual linking by filing up a form (Annexure-I).
Here's How You Can Link You Aadhaar to PAN; Watch Video:
In September last year, the Supreme Court had declared Aadhaar as constitutionally valid and said that the biometric identification would be mandatory for filing Income Tax returns and allotment of PAN. According to section 139 AA (2) of the IT Act, every person having Permanent Account Number as on July 1, 2017, and is eligible to obtain Aadhaar, must intimate his biometric number to tax authorities.
Aadhaar is issued by UIDAI (Unique Identification Authority of India) to the resident of India and Permanent Account Number is a 10-digit alphanumeric number given by the Income Tax department to a person, firm or entity.