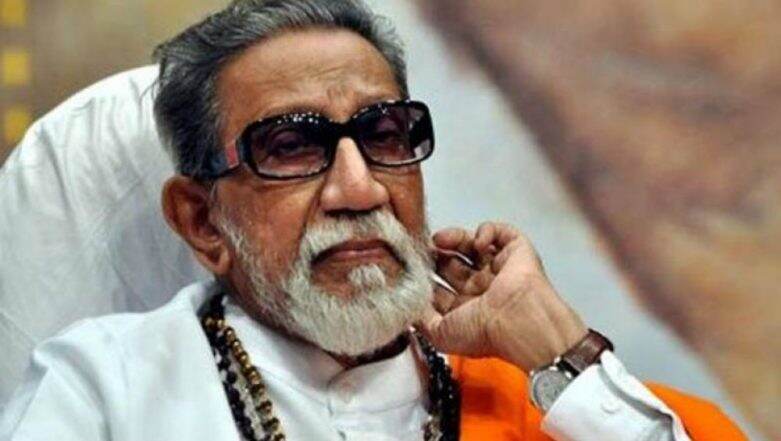 Mumbai, May 15: Terrorists had planned to conduct a blast at the residence of Bal Thackeray, Matoshree in 1989, claims former Shiv Sena Member Narayan Rane in his book 'No Holds Barred: My Years in Politics'. Following the threat, Bal Thackeray directed every member of the house to shift to a safer place for a few days. The then Chief Minister of the state Sharad Pawar called Shiv Sena founder's son Uddhav Thackeray and informed him about the threat, says Rane. He also claims that Bal Thackeray was on the hit-list of Khalistanis, who had managed to get a foothold in Mumbai. Congress Took Away Bal Thackeray's Voting Rights, Says Narendra Modi.
According to Rane, on March 19, 1988, Bal Thackeray organised a press conference, where he circulated a questionnaire seeking assurances from the leaders of the Sikh community in the city that they had not been financing the movement's activities. Bal Thackeray even warned that if the Sikhs continued to fund extremism, he would ensure that they were socially and economically boycotted in the city. Bal Thackeray was Never an Anti-Muslim Man, Says Sanjay Raut.
In 1989, Shiv Sena had lost the Maharashtra legislative assembly elections so the police were under the control of the Congress. The former Shiv Sena member writes, "In the midst of all the tension, newly-married Uddhavji received an unexpected phone call from Chief Minister Pawar Saheb, who asked him to come and see him immediately. Alone - he had specified." Bal Thackeray Never Stabbed Anyone in Back: Devendra Fadnavis.
As Pawar shared a close camaraderie with Bal Thackeray, he informed Uddhav about the threat. According to Rane, Pawar got intelligence inputs that some insiders were also involved in the plot. The book is co-authored with Priyam Gandhi-Mody and published by HarperCollins India.
(With inputs from PTI)