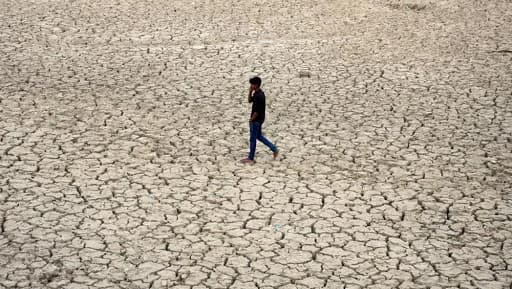 Lucknow, August 19: Heavy downpour is wreaking havoc in various regions of the country, while a shocking report has arrived from Uttar Pradesh's Bundelkhand region - where it is expected that the parched region might turn into a water-scarce region by 2030. With the current declining groundwater situation, an increase in migration is most likely expected.
The study – commissioned by the state government – has depicted that despite the presence of several welfare schemes and funding allocations, Bundelkhand is leading towards repeated droughts. Also, reasons like climate change and continuous monsoon failures have been described in the report. The document stated, "This has also led to a significant decline in the groundwater level thereby pushing farmers and the community to migrate away from the region." Maharashtra Drought Update: Ailing Farmers Organise Wedding of Dolls For Rainfall in Wardha as Water Crisis Gets Severe in Vidarbha, Marathwada
Prepared jointly by '2030 Water Resources Group' and Thinkthrough Consulting Pvt Ltd for the UP government as its resource partners, the 'Vision Document for Bundelkhand' stated, as quoted by Hindustan Times, "Several other studies have also documented the fact that the region is moving towards water scarcity (less than 1000 cubic metres per capita) from a water-stress level (less than 1,700 cu.m. per capita). By 2030, Bundelkhand is projected to be a water-scarce region if the current situation prevails."
Comprising seven districts, including Banda, Chitrakoot, Hamirpur, Jalaun, Jhansi, Lalitpur, and Mahoba, the region is spread over an area of 29,000 sq km with a population of 78 lakh and lies between the Yamuna and the northern part of the Vindhyan plains in Uttar Pradesh.
Considering the fact that Bundelkhand region being a rainfed area, availability of water, agriculture and livelihoods significantly depend on rainfall. However, this has progressively declined over the past decade leading to several droughts. Data shows that over 75 percent of the population depends on agriculture for primary livelihoods, while 96 percent income is generated from agriculture and livestock collectively. Maharashtra: More Than 12,000 Farmers Committed Suicide in 3 Years, Says Government
Defining the reason for water scarcity, director of groundwater, VK Upadhyaya said. "The government has decided to operationalise its approach towards integrated water resources management in Bundelkhand through a pilot project aimed at demonstrating the benefits of following a participatory and integrated approach towards water resources management."
Along with this, the study states that a significant decline in groundwater has arrived in Bundelkhand region. The situation will further deteriorate if a participatory and integrated approach is not adopted towards rebuilding Bundelkhand as a progressive and water-efficient region.