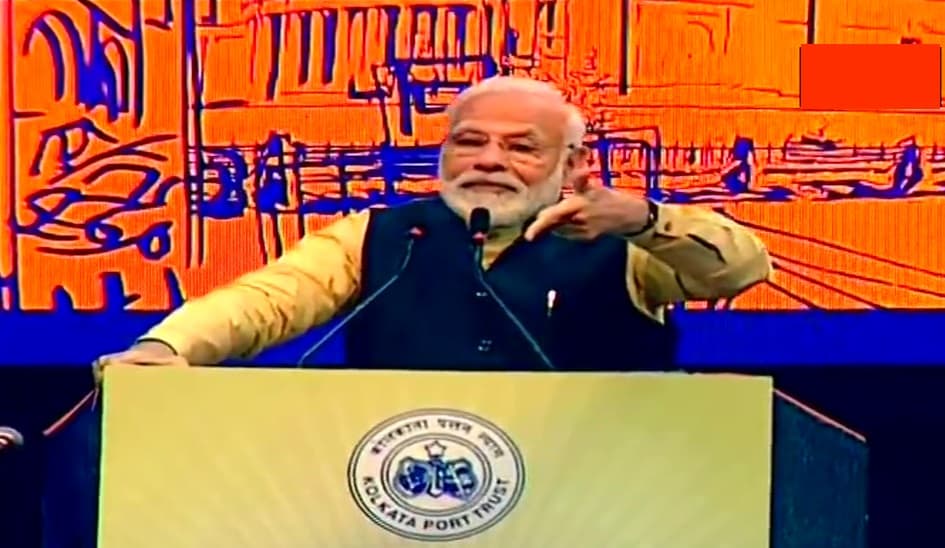 Kolkata, January 12: Prime Minister Narendra Modi, on the second of his two-day visit to West Bengal, renamed the Kolkata Port Trust as "Dr Syama Prasad Mookerjee Port". The announcement was made by Modi while addressing the event on 150th anniversary celebrations of the Kolkata Port Trust. Modi, while speaking to the gathering, said it is befitting the to rename the port after Mookerjee, who belonged to Bengal and was one of the pioneers of "industrialisation".
Mookerjee was the founder of Jana Sangh -- the predecessor of present-day Bharatiya Janata Party (BJP). According to the Indian PM, the late BJP ideologue had set the "stone for industrialisation" in India. He had actively participated in set-up of several projects, including Chittaranjan Locomotive Factory, Hindustan Aircraft Factory and Damodar Valley Corporation, Modi said. Mamata Banerjee: 'Told PM Narendra Modi During Meeting to Withdraw CAA, NRC, NPR'.
Modi further went on to describe Mookerjee as a "living legend" who strove to preserve the integrity of India. "He for the idea of One Nation, One Constitution," the Prime Minister said, adding that the entire nation, including Bengal pays tribute to him for his struggle.
"It was unfortunate for the country that after Dr. Syama Prasad Mukherjee and Babasaheb Ambedkar resigned from the government, their suggestions were not implemented as they should have been," the PM added.
Watch Video of PM Modi Speaking at Event Marking 150th Anniversary of Kolkata Port Trust
#WATCH PM Narendra Modi speaking at the inauguration of 150th anniversary celebrations of Kolkata Port Trust. #WestBengal https://t.co/gmxEr3VHF6

— ANI (@ANI) January 12, 2020
Apart from announcing the change in name of Kolkata Port Trust, Modi also took veiled jibes at the Trinamool Congress-led state government in West Bengal. The Prime Minister accused the state of depriving the people of benefits of central government's schemes, by not implementing them. "As soon as the West Bengal Government allows the Ayushman Bharat Yojana and PM Kisan Samman Nidhi, people here will also get the benefits of these schemes," he said.