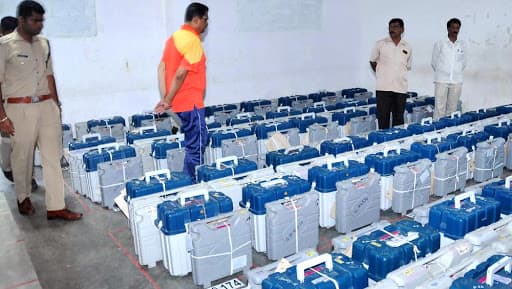 Mumbai, October 20: Hours ahead of Maharashtra Assembly Elections 2019, the Nationalist Congress Party (NCP) has written to the Election Commission of India (ECI). In a letter addressed to CEO Maharashtra, the NCP requested EC to issue an order stopping internet services within the three-kilometre radius of every polling booth and strong room in Maharashtra from October 21 to October 24. The Sharad Pawar-led party made this statement while raising the concerns of EVM hacking.
In the letter, the NCP noted that Maharashtra polls are one of the most crucial in India. "But there is huge suspicion amongst the people of Maharashtra that EVMs and VVPATs can be hacked and the votes that they cast go to some other candidate whom they don't wish to vote for. The hacking is possible and can be done by professional hackers using mobile internet," the letter said. Maharashtra Assembly Elections 2019: How to Check Your Name In Voter List? Download Voter ID and Slip Ahead of Polls.
NCP Writes to Election Commission:
Nationalist Congress Party (NCP) writes to Election Commission 'requesting EC to issue an order to stop internet services within the 3 km radius of every poll booth & strong room in Maharashtra, from 21 Oct to 24 Oct'. pic.twitter.com/zA67aEVD90

— ANI (@ANI) October 20, 2019
"To avoid such criminal activities from taking place we request you to issue an order in Maharashtra that within 3 km radius of every poll booth and strong room (where EVMs would be stored) internet should be suspended from the time of voting begins i.e October 21, 2019, to counting of votes is concluded i.e October 24," the letter added.
On Sunday, NCP leader Dhananjay Munde, who is fielded from Parli seat in Beed district, had also demanded returning officer that a network jammer be activated outside strong room and vote counting booth avoid to EVM tampering.
There are a total of 96,661 polling booths in the state. Meanwhile, the polling will start at 7 am on October 21 and go on till 6 pm. The main contesting is between the alliance of Bharatiya Janata Party (BJP)- Shiv Sena, and NCP-Congress.