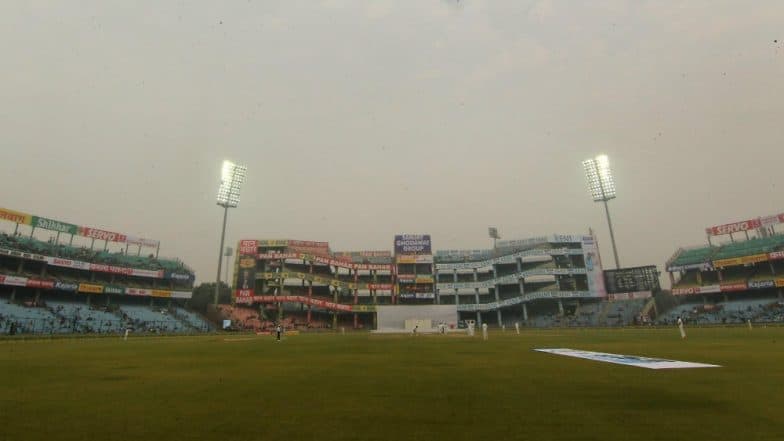 New Delhi, September 12: The iconic Feroz Shah Kotla stadium in the national capital was renamed after late former Union Finance Minister Arun Jaitley. The name-changing ceremony was attended by the deceased BJP leader's close friend and Delhi and District Cricket Association (DDCA) president Rajat Sharma, along with Union Home Minister Amit Shah. Although the stadium has been renamed as "Arun Jaitley Stadium", the ground which features the in-field action will continue to be known as Kotla Ground, officials confirmed.
Indian cricket team captain Virat Kohli, his wife Anushka Sharma and team coach Ravi Shastri were also present to witness the historic event. The renaming is aimed at honouring Jaitley's role in developing cricket in the national capital region. The BJP veteran had headed the DDCA for 13 years, between 1999 to 2012. Gautam Gambhir Proposes Renaming Yamuna Sports Complex After Arun Jaitley.
Update by ANI:
Delhi: Indian Cricket Team players arrive for a ceremony, wherein Feroz Shah Kotla Stadium will be renamed as Arun Jaitley Stadium, and a pavilion stand at the stadium will be renamed after Virat Kohli. pic.twitter.com/Pdm0aYGonb

— ANI (@ANI) September 12, 2019
The decision to rename Feroz Shah Kotla stadium after Jaitley was hailed by several past and present cricketing personalities, calling it a befitting tribute to one of the most efficient cricket administrators. BCCI acting chief CK Khanna also lauded the move, stressing that Jaitley's contribution to Delhi cricket is "immense".
Jaitley, 66, died last month on August 24 of health-related ailments. He was admitted at the hospital on August 9, after he complained of breathlessness and anxiety. The BJP veteran's health had deteriorated since last year, when he underwent a surgery for a kidney-related ailment. After the party had returned to power in the recent general elections, Jaitley had sought his exclusion from the Union Cabinet on health grounds.