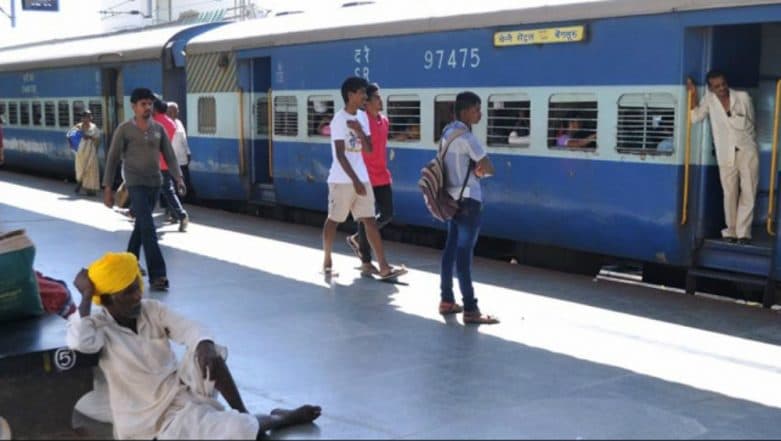 New Delhi, July 10: The Indian Railways is working on a "give it up" scheme for passengers under which they can voluntarily sacrifice the subsidy on train tickets. The "give it up" scheme is part of a 100-day plan submitted by the railways to the Prime Minister's Office (PMO). As part of the plan, the railways will urge passengers to voluntarily give up subsidy which would increase their earning and eventually improve rail infrastructure and services.
On a ticket, the railways recovers only around 38 paise per rupee spent on a kilometre of passenger travel. A large part goes into subsidy which the railway could have used for a better and modern rail system. In 2017, the railways had introduced the "give it up" scheme for senior citizens. Under the scheme, senior citizens are given the option to sacrifice their concession either in part or full on tickets. Indian Railways Change Timings of 24 Trains in Western Zone Starting 'July 1'; Check List.
As many as 48 lakh passengers chose to forego their concession, earning the Railways an extra Rs 78 crore. The railways' "give it up" scheme is not like the ongoing initiative for LPG cylinders under the Pradhan Mantri Ujjwala Yojana, The Indian Express reported quoting unnamed sources. The central government promises one cylinder to a home in a village for every subsidy foregone. Indian Railways to Get USD 750 Million Loan From ADB For Track Electrification Project.
However, the railways won't use the money the "subsidy" that Railways provides is not from the general exchequer but a cross-subsidy from its own freight business, sources told the newspaper. Passengers who will give up subsidy will end up paying more for their journey.
Prime Minister Narendra Modi, after coming to power in 2014, urged people to sacrifice their subsidy on LPG cylinders. Following his appeal, over 1.25 crore people responded positively.