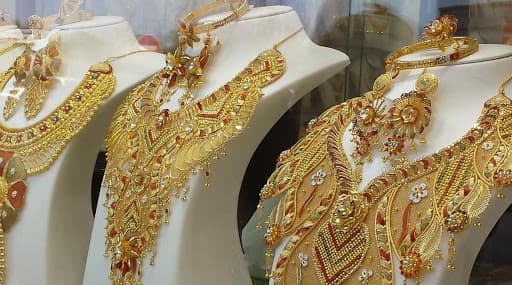 Mumbai, January 23: India Gold February futures on Thursday began trading with higher value amid the rising fears over the spread of China's new flu-like virus -- known for now as 2019-nCoV. The gold futures were trading higher above Rs 39,998 for 10 grams, with a change of 0.21 percent. While for the silver futures, the trading is moving in red with 0.06 percent decline, currently being traded at Rs 46,205 per kilogram.
According to the MCX, the gold contracts for February were trading higher by Rs 85 or 0.21%, at Rs 39,998 per 10 gram in the early trading hours. Experts predict that volatility might remain in the gold prices for some time. However, for the silver contracts, the initial trading has not shown an improvement. The Silver contracts are being traded at lower value of Rs 33 or 0.06 percent, at Rs 46,205 per kilogram in the early trading hours. Union Budget 2020: Modi Govt Mulls Cut in Import Duty on Gold, Aims to Push Exports of Indian Jewellery in Global Market. 
Experts opine that with the Indian Union Budget 2020 to be be announced in few days, the trading of precious metal in the world market is most likely to improve, provided import duty are relaxed. Business experts had earlier spoken with the Union Finance Ministry on this issue and have request Finance Minister Nirmala Sitharaman to look into this matter. Experts believe that a cut in the import duty of gold might improve the economic crisis situation in the jewellery sector.
Recently, PNG Jewellers MD Saurabh Gadgil had expressed his hopes with the Union Budget 2020. He had said, "Expecting a significant reduction in import duty on gold in the upcoming Union Budget." Adding more, he said, "Also expecting a cut in Income Tax bit for a common man which will augment disposable income and contribute to enhancing spending on items like gold and jewellery and other consumable sectors." Union Budget 2020 Expectations: Here's What Jewellery, Auto, Travel, E-Commerce Sectors Expect From Nirmala Sitharaman's 'Bahi Khata'. 
It is to be known that gold import declined to 39 tonne in December 2019, from 152 tonne in November. Since on an average India import 800-900 tonne of gold annually, India's gold imports felling short by seven percent to USD 20.57 billion during April-November period of FY 19-20 is not a good sign for the jewellery sector.
Earlier in the last Budget, Union government had hiked import duty on gold to 12.5 per cent from 10 per cent. Additionally GST of three percent is applicable to gold imports, which makes the combined import duty to 15 percent.