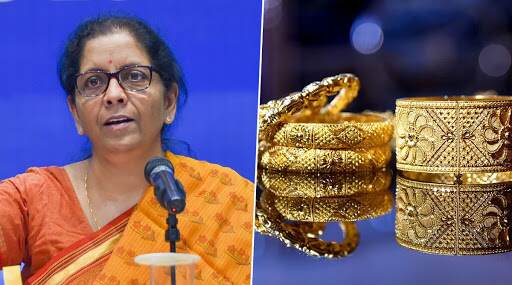 New Delhi, January 16: The Union government is mulling to cut the import duty on gold and the decision might be announced in the upcoming Union Budget 2020. Currently the import duty on gold is 12.5 percent which is under consideration despite the possibility of reduction affecting the current account deficit. The market pundits are expecting a reduction of four percent in the import duty of yellow metal.
With India being the largest importer of gold, which is used to meet the demand of the jewellery industry, the recent development might help in bringing down the price of gold products in the country. The Finance Ministry is rethinking on its plan to push exports of jewellery amid decline of jewellery export of about 1.5 percent in H1 of FY 2019-20 (April-September 2019-20). During the period, the gems and jewellery exports declined to USD 20.5 billion. Gold Rate Today: Price of Yellow Metal Remains Muted As US-China Trade Deal Fails to Soothe Investor Concerns.
Apart from that, the gold imports declined to about three percent in value, i.e., USD 32.8 billion in 2018-19. Reserve Bank of India data had stated that in the Q2 of FY 2019-20 (July-September), less gold import helped the Cash Against Document (CAD) narrow to 0.9 percent of gross domestic product or USD 6.3 billion. This was 2.9 percent or USD 19 billion in same period last year. On an average, India import 800-900 tonne of gold annually.
It is to be known that the gold import declined to 39 tonne in December 2019, from 152 tonne in November. Union Commerce Ministry data states that India's gold imports fell about seven percent to USD 20.57 billion during April-November period of FY 19-20. Previously during the same period in FY 2018-19, the imports the yellow metal stood at USD 22.16 billion. RBI Unlikely to Cut Rates in February Policy Meet as Inflation Inches Towards 8% in January 2020. 
Earlier in the last Budget, Union government had hiked import duty on gold to 12.5 per cent from 10 per cent. Through this move, the government had tried to make gold dearer in the domestic market. Additionally GST of three percent is applicable to gold imports, which makes the combined import duty to 15 percent. Due to this, the possibility of increasing entry of gold in the country through the illegal route rose. Now, considering the ongoing Iran US conflict, prices of yellow metal for 10 gram had touched Rs 42,000.