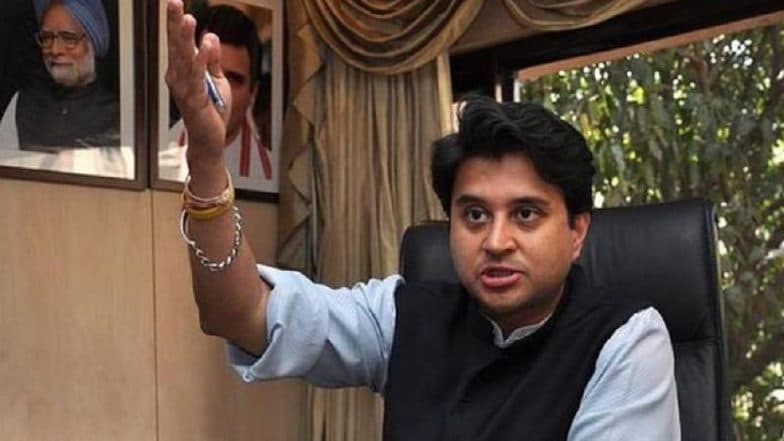 New Delhi, October 9: Reacting to Salman Khurshid's remark, Jyotiraditya Scindia said that he does not want to reaction on someone else's comment but he noted that the "Congress needs to do self-introspection". Earlier, Khurshid said that the grand old party could not analyse the reason for the defeat of 2019 Lok Sabha Elections as its leader, Rahul Gandhi, "had walked away". Party's Biggest Problem Is Rahul Gandhi Walking Away: Senior Congress Leader Salman Khurshid.
Speaking to media during his visit to Madhya Pradesh's Chambal, Scindia said: "It is important to assess the situation in Congress to take the party ahead." He also said that in the current scenario Congress cannot win Maharashtra or Haryana Assembly elections.
Ani Tweet:
Jyotiraditya Scindia,Congress on Salman Khurshid's remark: I would not like to react on someone else's comment but yes no doubt that the Congress needs to do self introspection. https://t.co/P22EyRzeFa pic.twitter.com/RhSyYI0utc

— ANI (@ANI) October 9, 2019
Earlier, Khurshid, said, "we haven't really got together to analyze why we got defeated. Our biggest problem is our leader has walked away. Sonia Gandhi stepped in, but there is more than an indication that she is treating herself as a stop-gap arrangement. I wish it wasn't so.".
Speaking to ANI, Khurshid said, "I have very deep pain and concern about where we are today as a party. No matter what happens we won't leave the party, we aren't like those who got everything from the party and when the chips were down, things were difficult they left the party and walked away."
Kurshid even predicted a pale future for the grand old party in upcoming Maharashtra and Haryana Assembly Elections. Before the state polls, many Congress leaders left the party, with analysts blaming the lack of clear leadership.
In Lok Sabha Elections, Congress secured just 52 of the 524 parliamentary seats, as against 303 won by Bharatiya Janata Party. The polls in Maharashtra and Haryana are scheduled on October 21 and results on October 24.