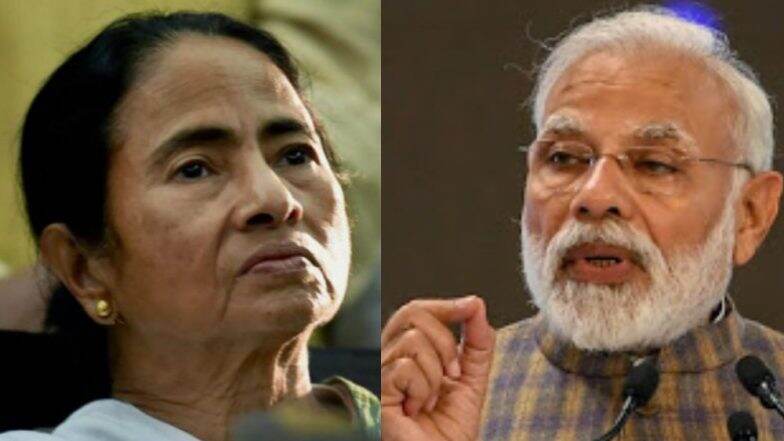 New Delhi, September 18: West Bengal Chief Minister Mamata Banerjee is scheduled to meet PM Narendra Modi on Wednesday to discuss on various issues related to the state. Incidentally, this is the first time, ever since Modi came to power for the second term, that Mamata will be meeting the PM. Mamata Banerjee Runs Into PM Narendra Modi's Wife Jashodaben at Kolkata Airport, Gifts Her a Saree.
While leaving for Delhi on Tuesday, Mamata told reporters at the airport that she has to meet the Prime Minister to claim the dues the Centre owes West Bengal under the various Centre-state jointly sponsored programmes. Also, several other issues like disinvestment of PSUs and transfer of headquarters of companies, the Assam National Register of Citizens are on the agenda of their discussion.
According to an agency report, she was quoted saying, "I go to Delhi rarely. This is routine work. I will take up with the Prime Minister issues like funds that are due to West Bengal, change in the state's name, the merger of public sector banks, issues with Air India, BSNL, Railways. The employees in all these sectors are facing a lot of problems and they have nowhere to go but come to us."
On the occasion of PM Narendra Modi's 69th birthday on Tuesday, Mamata Banerjee had extended warm greetings and wished for his healthy life. Mamata had avoided PM Modi's swearing-in ceremony for political reasons.
On Tuesday, while Mamata Banerjee was boarding her flight to New Delhi, she met Narendra Modi's wife at the Kolkata airport and they exchanged pleasantries. Jashodaben was leaving the city after a two-day visit to Dhanbad in neighbouring Jharkhand. The Chief Minister also gifted her a sari.