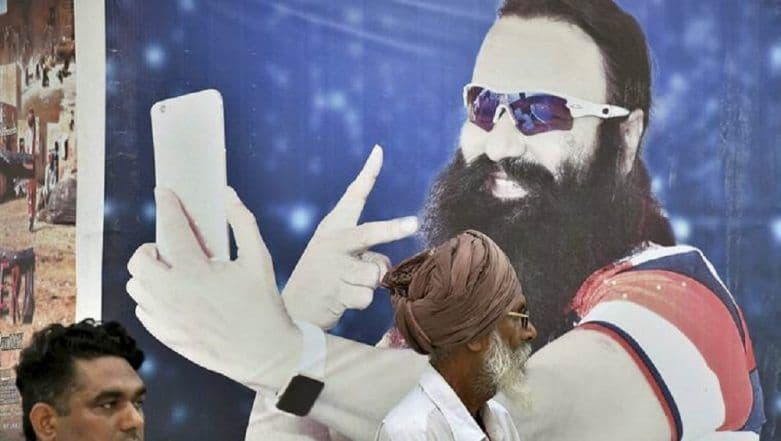 Chandigarh, January 7: A 'high alert' has been issued in the Panchkula district of Haryana where a court is scheduled to declare the verdict in a murder case involving rape-convict godman Gurmeet Ram Rahim Singh. The Panchkula town has turned into a fortress ahead of the case outcome, with the state government cancelling leaves of policemen in the district and adjoining parts.
Taking cue from the unprecedented violence recorded in Panchkula in August 2017, when the Dera Sacha Sauda chief was convicted of rape by the Special CBI Court, the government has deployed additional troops to prevent breakdown of law and order. Gurmeet Ram Rahim Singh, Qaidi No. 8647, Grows Vegetables in Rohtak's Sunaria Jail: Here's How Much He Earns.
In the rape case, the tainted godman was then pronounced a punishment of 20 years for sexually assaulting a sadhvi. In the violence which ensued, over 40 followers of Dera Sacha Sauda were killed, and nearly 300 left injured.
Ram Rahim, who is currently serving his prison term in Sunaria jail of Haryana's Rohtak district, will not be brought to the court considering that it may stoke tensions. He would, instead, be produced before the Panchkula court bench via video-conference, said Deputy General of Police (DGP) BS Sandhu.
The murder case dates back to November 21, 2002, when journalist Ram Chander Chatrapati was shot dead in Sirsa district. According to the prosecution, the scribe was assassinated on the behest of Ram Rahim.
Chhatrapati was the editor of a local Hindi daily - Poora Sach. He had allegedly angered Ram Rahim by publishing the copy of the letter which the rape victim Sadhvi had written to the Prime Minister's Office, Home Ministry and the UNHCR.